From Strangers, to Lovers & Business Partners, to an Epic Hindu Destination Wedding
I'm Menaka, a Toronto native with a love for fashion and real estate.
Originally, I was interested in healthcare and graduated with a Bachelors of Science degree, with plans to become a nurse. I thrived in this environment, helping and meeting people every day. But, over time, I realized that I wanted to use my skills and compassion for the community in a different way, something I was more passionate about.
My husband Mayuran, also a Torontonian, graduated with a Business Marketing diploma. He's definitely someone you'd call a go-getter, he achieves anything he sets his mind to, which is evident in his life to this day.
Together, we run a successful real estate business, The MS Real Estate Team. Our mission is to change the outdated impression and reputation of the real estate industry in the community, and give clients phenomenal service with our own personal touch. Who we are today is a result of never giving up on each other, and a mutual understanding that incredible relationships take time, patience, and hard work.
How we met
Growing up, I always heard, "When you meet that special someone, you'll just know." I always wondered and dreamed about what that would feel like. And when I met Mayuran, I knew; this was my special someone. A mutual friend had introduced us, and since everyone was using BBM for Blackberry back then, Mayuran asked my friend for my BBM pin and one of the first things he messaged me was, "Hey, what's your background?" As hilarious and unromantic as that sounds, that was the classic pick-up line that many guys used on girls. But he more than made up for it with his kindness and charisma.
Over time, I got to know Mayuran in a way that made me feel like I had known him for a thousand years. He felt like home to me. He also came from a big family and like me, was passionate about giving back to the community and making a difference.
Six years later, after many ups and downs, life-changing experiences, and the desire to support each other through every obstacle, we built a strong relationship based on friendship, love, and communication - and took the next major step in our lives.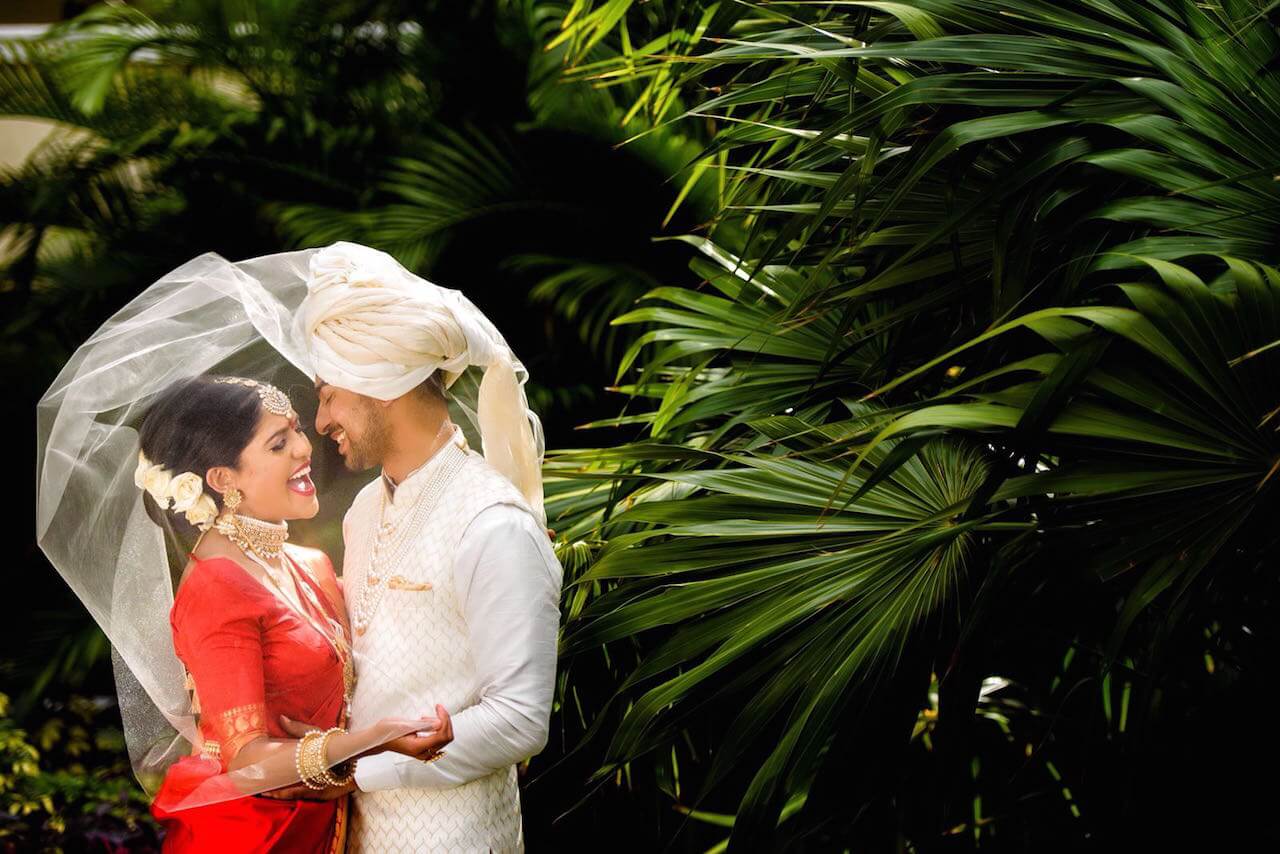 Our Small, Lean, Tamil Destination Wedding
We always knew we wanted to have an intimate wedding, surrounded by those who matter the most to us. I miss the days when weddings were about mingling and spending time with your family and friends for weeks, or even months in preparation for the big day. Everyone would get together to help the bride and groom, and create everlasting memories, from the initial days of planning, to the end of the last wedding event.
Option 1: A Banquet Hall Wedding in Toronto
Our first obvious option was to do the wedding in Toronto at a banquet hall. As a majority of our families live here, it made the most sense. However, something about that didn't sit right with us. Nowadays, many weddings are seen as an event people attend on the weekends for a few hours. People then go home and forget about the memories from the wedding, and it turns into just another impersonal event.
Pros: easy to coordinate, familiarity with the city and vendors.
Cons: Having 500-1500 people at my wedding and losing the intimacy I wanted for such an important moment in my life. Mayuran and I then started toying with the idea of a destination wedding. We were uncertain if we could pull it off and if our families would be onboard. But as fate would have it, at that exact same time, Mayuran met Krishna of VMS Travels. Immediately upon hearing our thoughts of a destination wedding, Krishna was onboard. He was so supportive, patient, and professional which made the entire process easier. At our first meeting with Krishna, we brainstormed some location ideas and considered which country would be the best choice.
Option 2: A Destination Wedding in Sri Lanka
We considered Sri Lanka, our motherland. The scenery would be gorgeous, the wedding would be rich in authentic tradition, and it would be a stunning and different experience for our family and friends, some who have not been to Sri Lanka in many years (or even at all!).
Pros: we could have the intimate wedding we always wanted, and it would be somewhere close to both of our hearts.
Cons: the travelling and time difference itself would be exhausting for everyone and Mayuran and I would have to go a couple months before the wedding to do all the preparation. Option 3: A Destination Wedding in Mexico
The above seemed too daunting for us. The other option was Mexico, a long-time favourite vacation spot of ours. We always have a great time when we go and we absolutely love the Mexican culture, food, and vibe. In Krishna's experience, he hadn't seen a Sri Lankan Hindu wedding take place in Mexico, so this would be a first for VMS Travels to plan one.
Pros: intimate, somewhere close to our hearts, everyone loves all-inclusive, stress-free when it comes to meals and drinks.
Cons: Lots of planning, organizing and getting everyone onboard. After weighing the pros and cons, we decided on option 3- a wedding in Mexico!
Krishna from VMS Travel was instrumental in making our Mexican destination wedding come to life. He was available to answer our questions, concerns, and made sure that the process was as smooth as possible for my guests and me. He kept in touch with all the wedding coordinators in Mexico and if they didn't respond to my emails in a timely manner, he would call them directly and remind them to get back to me as soon as possible. When issues came up, he would resolve it for us quickly by communicating with the resort and negotiating on our behalf. He was basically our second wedding planner back home, and was still on his feet in Cancun throughout all the wedding events.
•• Destination •• from p-your vision. on Vimeo.
*The video was captured by p-yourvision.
Now that we're back home after a week of priceless memories and experiences, I would highly recommend a destination wedding to other couples out there who would like to create a unique and intimate occasion with their closest family and friends.
***Looking to create your love story? Join the other couples who have dated and married through myTamilDate.com!***
"How a Message on myTamilDate.com Led to an Engagement for Lavanya & Vitharan"
Look out for our upcoming video on TC where we'll be sharing some valuable tips that we picked up while planning our destination wedding with VMS Travels.
If you'd like to see more of our wedding images, be sure to grab a copy of Jodi Bridal Magazine at their upcoming event on March 3rd.
-All images captured by Em Photography