Book Review: Romesh Ranganathan's 'Straight Outta Crawley'
Memoirs of a Distinctly Average Human Being.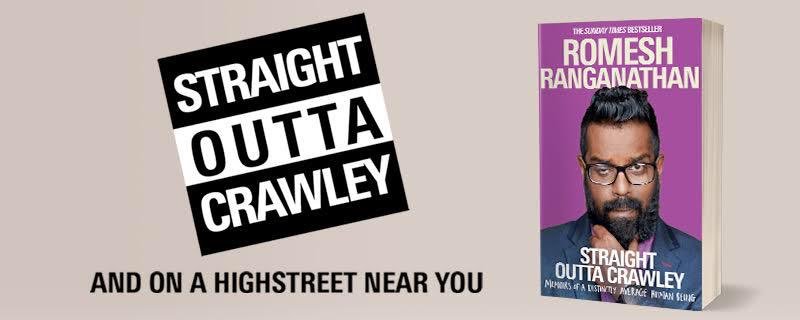 Romesh Ranganathan writes a comedic memoir following the events of his life and the path to his success within the comic community. He lives the life of an average human being but his ability to point out everyday oddities and blend jokes into them carried the book. I have read many books by comedians and not all of them pan out as funny considering standup and book comedy are two different styles. The jokes randomly placed add an unexpected punch here and there that keeps jovial flow as we learn why this grade school teacher became a strong comedic presence in the British comedic world as well as worldwide.
My first experience with Romesh was about 10 years ago- when I came across a few youtube videos and seeing the name Ranganathan. Generally, Tamil comedy is more acting oriented but this comic was actually witty and funny. As the years went on, I noticed his name and picture appearing more and more and realized that he was making a strong presence in the comic world.
Romesh has also weaved some aspects of Tamil life that many first-generation born diaspora children may have felt and can relate to; especially the more disjointed they are from their ancestry. His writing style makes for a smooth & enjoyable read while not entirely chronologically told - going on tangents and yet remaining smooth. I enjoyed the audio version - also read by him - and even laughed out loud here and there.
If you're looking for a nice, simple, but funny read, here's your book.