Balancing Music and Medicine
I graduated as a Medical doctor with my locks. The dreadlocks have deep roots in the ancient Indian culture, even though people relate it to Bob Marley and Rastafari Culture from Jamaica alone.
My name is Dr. Sathivel Ras Thaman and I go by the artist-stage name of Dr.Sakthi. I am a Malaysian born Indian with Tamil roots. My humble journey begins in Klang town Malaysia, a small town in the state of Selangor. I was born into a simple, middle-class Indian family. My Father was born in the same town and worked as a flour mill foreman before being promoted to a mill supervisor until his retirement. My mother was born in the state of Pahang in a rural town called Raub and remained a housewife after marriage.
Both my grandparents were immigrants from Tamil Nadu, India and came to Malaysia in their early childhood with my great grandparents before the independence of Malaysia. Although my typically Indian parents did not understand my personal journey ,they were supportive because I always came back from school with good grades. Even today, my choices in life confuse them, but their love and support have always been there. Growing up in a Tamil family, I was heavily exposed to music from Tamil movies at a young age. Illayaraya's sounds filled most of the first quarter of my childhood, and AR Rahman's magical digital age Tamil music sounds filled the rest of my childhood. I developed an admiration for poetry since the age of 10 years old, after being heavily influenced by my cousin, Mr.Elangko who is a writer and a great poet himself. He gave me my first Bob Marley cassette at the age of 9. I got caught up into the whole rap and hip-hop hype at the age of 14 and by the age of 17, I released my first demo mix -ape with 5 rap songs, right after completing high school. This is when I met my soul buddies, Balan Kasmir and D'Navigator, who currently play a huge role in the Malaysian and International music scenes today.
This is a picture of the Starrsound Asia Dream team. We began building dreams together from the moment that we met. Balan, Kashmir and D'Navigator were in an old school rap group that went by the name KLG SQWAD . Navigated by D'Navigator's futuristic productions, this multi-racial, second-generation Hip Hop/rap music from Malaysia gained a great deal of attention and respect in the music scene. I had to play a role as the hidden member in the rap group, because I left the country to seek medical knowledge at the age of 19.
I released a mixtape with the Nigerian Musician Mo-Fi (Dr.Fiyi Araromi) in the year 2007 (released on Myspace.com) and recorded ragga and raps on dubstep music long before dubstep also came into the mainstream spotlight somewhere between 2010-2012. My personal transition between rap and reggae took place around 2007/08. I often flew back home during the summertime, but during this particular summer, I decided to I record, perform and build my musical passion even further.
In 2007, I was featured for the first time on a track called titled "Sunset Stylin" ,(https://www.youtube.com/watch?v=Em5QPetZGpE ) on the album "Asian Dancehall Revolution" by a senior Malaysian Reggae Artist " Sasi The Don". That same year, I wrote my first Tamil Reggae song "Penne Kanneer VIdathe", a remake of Bob Marley's "No Woman, No Cry" in Tamil, which I later released in 2012. In the year 2009, I had the chance to record on the first song ever in the "ElectroKuthu" genre (which is now being made famous by Vidya Vox), "Kondattam"-Remix by D'Navigator alongside Malaysian Rap God "Altimet" and Mo-Fi from Nigeria (https://myspace.com/drtho/music/song/kondattam-remix-altimet-dr.tho-mo-fi-40883254-43443854 )
As I grew up, I developed a preference for singing instead of just rapping, and this is what compelled me to complete a genre crossover. In search of musical roots, I discovered that reggae, ska, and rock-steady dancehall music from Jamaica paved the road to shape rap, hip-hop and many other mainstream genres of today, such as dubstep and electronic music. The essence and message of reggae music resonated with me in a deeper way than other influences. This is why I started growing dreadlocks while I was in my 4th year of medical school.
I graduated as a Medical doctor with my locks. The dreadlocks have deep roots in the ancient Indian culture, even though people relate it to Bob Marley and Rastafari Culture from Jamaica alone. I embraced my natural history while simultaneously meeting my academic obligations. Neither my dreadlocks or my music bothered my studies in any way. I flew back in 2009 and started my housemanship in arguably the busiest Hospital In Malaysia- HTAR KLang. This hospital now serves a population of Million Klang town citizens with daily Emergency department visits exceeding 1000 per day.
From the year 2009-2012, I was a medical houseman. I experienced the most dysphoric 3 years of my life as I tried to balance my position as a medical houseman while trying to continue music. Even during these mentally and physically challenging conditions, I persevered in order to keep the fire of my musical passion alive. In the year 2011, I was featured for the 2nd time on Sasi The Don's album,"Dont Panic It's Just Music" on the track called "Right Time Comes". This album featured big names like Maxi Priest, Apache Indian, Harish Ragavendra from India and many local names like Jacklyn Victor and Anita Sarawak.
I completed my housemanship and became an Emergency Medical Officer in the same Hospital. Then in 2013, I was transferred to the state of Sarawak in the West Of Malaysia and was appointed as the Director of a Hospital in a rural district called Daro. This district has a population of about 60,000 people. The solitude of this rural town, combined with the responsibility and power to make critical decisions helped me grow. I played my role very well and helped this hospital improve in terms of service, emergency practice, hospital occupancy and staff competency. I was a young and enthusiastic Hospital Director who gave his heart and soul to Daro in this short period of time. The first-ever autopsy since its opening in 1994 was performed under my order, emergency drugs were ordered for the emergency department and transportation was extensively improved. I know that I could have done much more if I stayed in this beautiful town.
My Medical career with the government was promising, but I needed more time and freedom to heed my real calling. I made the decision to leave government services to join the private sector, where I earned a better income and had more time on hand to work on my dreams. I continued to self-sponsor my musical endeavors and was eager to get back to finish my long-awaited debut album.
My career revelation came in 2015 when I started to see that was a greater connection which has always present between music and medicine. More than just for entertainment, my endeavors in music have become rather serious. During the same year, I helped to compose and write the Official song for the Malaysian Cancer Council(MAKNA) to raise awareness towards testicular & prostate cancer (Title "You Gotta Live" , which was aired in all Golden Screen Cinema Theatres for the whole month of November 2015.)
[embed]https://www.youtube.com/watch?v=oE3AI-7xaEo&t=112s[/embed]
After this opportunity, I started giving lectures on the future possibilities of using Music and sound in the medical field. Since then, I have made the right connections in both The National Arts and Culture Academy(ASWARA) where I gave a lecture to music faculty students and the Ministry of Health. The Deputy Minister of Health Malaysia, Dato Hilmi B HJ Yahaya, who personally listened to my presentation, understands and sees this vision. He launched my recent album, praised me a Genius and stated that The Health Ministry is looking forward to working together in order to expose this idea to the masses In Malaysia.
https://www.youtube.com/watch?v=U_5xrAdsI3Y&feature=youtu.be
It is 2018 now, and I have written at least 3 albums full of songs (not to mention countless other covers, features, free releases and mixtapes) which mostly have been recorded and are to be released. While balancing both fields, I am now making music with a definite purpose and deeper knowledge. In November 2017, I presented my debut album #PULSE - The first Quantum Dancehall album which features 7 different languages. #Impulse The 2nd Quantum Dancehall Album - which will feature 8-9languages is planned for release in June 2018. Both of these albums feature songs that are very mainstream and was meant to test my songwriting capabilities for 21st century tastes in music.
Another grand undertaking which took off in 2017, was The initiation and formation of "The Worldwide Tamil Reggae and Dancehall movement". Initiated by myself and a fellow Tamil reggae musician (Kavin from California), this movement was released right after the world's first international Tamil Reggae Collaboration. We are now ten members strong and are working to produce the World's First Tamil Reggae Compilation album, which is planned for release in 2018.
My songs have reached International ears and were broadcasted on the BBC Asian Network for two weeks in a row. I am a work in progress, but I know that I am not going to stop at being just a musician and a doctor. Here are just a few elements of my future vision: get involved in medical research, publish a thesis on Music & Medicine, reveal my ideas for medical equipment based on the science of sounds and own my Holistic Medical Practice space with my partner in crime. I am a dreamer and most definitely at this point in my life, I want to prove myself to be an achiever too. Becoming the best version of ourselves is the answer to making a better world for everyone!
Dr. Sakthi's Discography: Ma Songs- Demo Mix tape 2001
Lovin The Sound-KLG SQWAD
Da-U-Ga-Anthem - Drb ft Mc THo- 2004
Amplify Remix- KLG SQWAD
Queen Of the Ghetto-Mofi & Dr.THO
Short Remixes – Mofi & Dr.Tho
Kondattam Remix-D'Navigator ft Altimet,Dr.THo,Mo-Fi
SoulJah
Sunset Stylin-Sasi The Don Ft Dr.Tho
Right Time Comes- Sasi The Don Ft. Dr.Sakthi
1-2 remix –BalanKashmir, fEat Dr.Sakthi and various artistes
Kannum Kannum(Hold Yuh Remix)
Redemption Song(youtube cover)
Kadhal Bell – Legend Mathan ft Dr.Sakthi,Rabbit Nac,Darkkey
Chikku Bukku Raile –Psychomantra ft.Dr.Sakthi & Krush KRZ
2012 Penne Kanneer Vidathe(No Woman No Cry Tamil remake)
2015 You Gotta Live - Dr.Sakthi + Caprice + Suki – MAKNA (NATIONAL CANCER COUNCIL) Official video MOVEMBER 2015 - (https://www.youtube.com/watch?v=oE3AI-7xaEo&t=112s )
2016 2015 AD Quantum Reggae Mixtape
Welcome to klang town (https://www.youtube.com/watch?v=fhZn1wEyF1Q )
All Of Me Dancehall Remake-John Legend (https://www.youtube.com/watch?v=7Pm1vJGhQ90&index=2&list=PLF2RygOKrbrvnh3nCQlVeUk5wAjgRaqwf )
Kenapa Kamu Begitu (https://www.youtube.com/watch?v=_8Rtb_t86DM&list=PLF2RygOKrbrvnh3nCQlVeUk5wAjgRaqwf&index=3 )
Adiye Kadal Reggae Remake (https://www.youtube.com/watch?v=3n1W9SFV5Kk&list=PLF2RygOKrbrvnh3nCQlVeUk5wAjgRaqwf&index=4 )
Heart Like Tupac Soul Like Marley ft. Balan Kashmir
(https://www.youtube.com/watch?v=z9kK-ZjFR-k&list=PLF2RygOKrbrvnh3nCQlVeUk5wAjgRaqwf&index=5 )
Gaana Hall Kuyil(Sean Paul Like Glue Riddim) ( https://www.youtube.com/watch?v=_ywL11KsUds&index=6&list=PLF2RygOKrbrvnh3nCQlVeUk5wAjgRaqwf )
2017 Kadhal Neeyadhi -Krush Krz ft Stylomannavan + Dr.Sakthi (https://www.youtube.com/watch?v=TSSz834bA7E&index=6&list=PLF2RygOKrbrtppLFjg51Vvhf-n3yiqpez )
Reggae Twist (The HEartBeat Saga Ep.1) - Dr.Sakthi & The Zen People (https://www.youtube.com/watch?v=oXCJuogrdiE&list=PLF2RygOKrbrtppLFjg51Vvhf-n3yiqpez&index=11 )
Chumma Thoda Sonna ( Iakopo's Touchdown)Tamil Dancehall Remix (https://www.youtube.com/watch?v=9Rc0Qt80H0Q&list=PLF2RygOKrbrtppLFjg51Vvhf-n3yiqpez&index=8 )
Vellai Poove ADK SRI RASCOL Dancehall/Moombahton remix (https://www.youtube.com/watch?v=x59EALGmgtw&list=PLF2RygOKrbrtppLFjg51Vvhf-n3yiqpez&index=5 )
Ed Sheeran Shape Of You Tamil Remake – (https://www.youtube.com/watch?v=8cFhwZXO2Qs&index=3&list=PLF2RygOKrbrtppLFjg51Vvhf-n3yiqpez )
Vanmurai Vendam alongside Mcry Vedaz(Worldwide Tamil Reggae & Dancehall Movement (https://www.youtube.com/watch?v=asToNiLnlDU&list=PLF2RygOKrbrtppLFjg51Vvhf-n3yiqpez&index=7 )
Rasta Macha alongside Kavin(California) –(1st International Tamil Reggae Collaboration ever) –The Biggest Tamil Reggae Hit of 2017 (https://www.youtube.com/watch?v=czclALbG2Yg&index=10&list=PLF2RygOKrbrtppLFjg51Vvhf-n3yiqpez
PULSE-1ST QUANTUM DANCEHALL ALBUM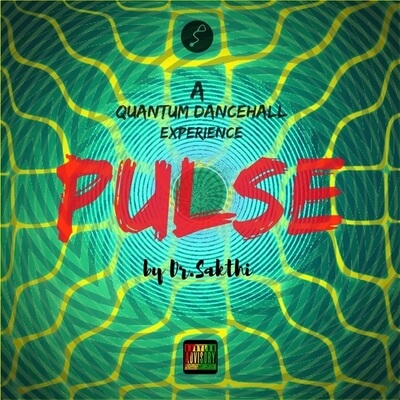 Buy CD / USB album - http://drsakthi.ubertickets.my
Artist Contact: Dr.Sakthi ,MD Www.drsakthi.com Www.facebook.com/drsakthireggae Www.instagram.com/drsakthi Www.soundcloud.com/dr-sakthi
Youtube Channel - Dr Sakthi - https://www.youtube.com/channel/UCxhAdlqXyi2Af51dkwDtD9A Itunes- https://itunes.apple.com/my/artist/dr-sakthi/445860665 Spotify - https://open.spotify.com/artist/7cDaSmFfRv8nVcNHvOoMS8 Deezer - http://www.deezer.com/us/artist/12165976 BBC MUSIC - https://www.bbc.co.uk/music/artists/91169652-2021-43c1-9fd7-56179f290ad4