UofT's Tamil Alumni Celebrate Grads Working On The Frontlines of Covid-19
The University of Toronto's Tamil alumni are using their Instagram account to profile former Canadian university students who are on the frontlines of the Covid-19 pandemic.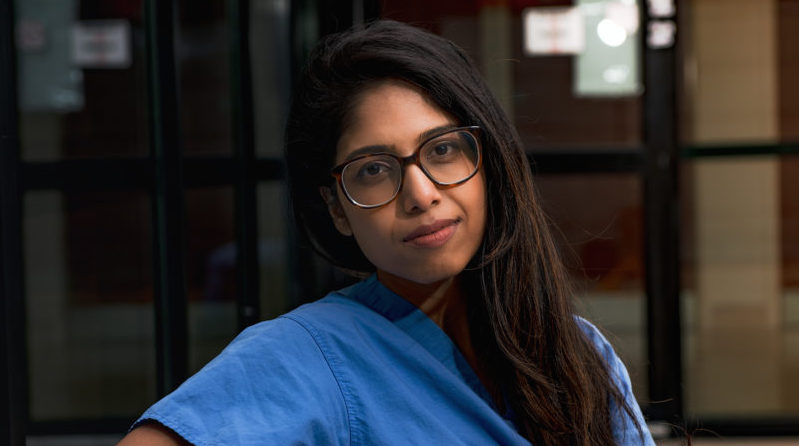 "As the world deals with the public health crisis of COVID-19, essential service providers are serving courageously and making sacrifices that some of us will never be called upon to do.Througout Ontario and elsewhere in Canada, University of Toronto's Tamil alumni are also on the front lines. We hope to celebrate as many of them as we can. We thank you for your service 💙."
Here are some of the featured individuals (which include alumni from UofT as well as other Canadian universities) - you can view the complete list here:
JEN RAJKUMAR (Pictured above), Respiratory Therapist, Scarborough Health Network.
"Sometimes, just for an instant, I forget we're in the middle of a pandemic. When a patient is having respiratory issues, my instinct is to run in and help, but if I don't have the right equipment I'm putting myself, my family and my colleagues in danger. So I have to go slow, even when it feels unnatural. I'm taking other precautions, too. I leave my scrubs and my shoes at work. I hang my jacket in a separate area when I get home and I put the rest of my clothes straight in the washing machine. I'm using bleach on top of detergent just to be safe. I accidentally ruined my husband's favourite T-shirt. He's a lot more careful about what he throws in the laundry now. We're also staying away from my parents, who live in Whitby, just to be safe." Read more at Toronto Life.
Dr. MAYOORENDRA RAVICHANDRAN, Staff Emergency Physician, Scarborough Health Network
"I work on the frontlines in the emergency department at Scarborough Health Network as a physician and a member of the protected code blue and intubation team. We have been preparing ourselves for the worst - training for a time when we might become overwhelmed as other cities around the world have been, but hoping we never get there. The support of our families and colleagues has been key to keeping us grounded during a very stressful time for all the front-line healthcare workers."
Dr. KANNA JEYAVERNY VELA, Emergency Room Physician, Rouge Valley Health System

"By 7:45 most nights – back when things were normal – Kanna Vela and her husband would snuggle up on the couch with their two young daughters, reading stories the girls had chosen from a basket of books nearby. (One of their favourites is about a doctor dog that fixes up storybook characters.) Next, they'd have some milk – a glass at the table for the five-year-old and a bottle for the toddler – and brush their teeth. Then Dr. Vela and her husband would read them a few final stories before lights out.

This bedtime ritual still happens each night. It's just that Dr. Vela isn't there. Instead, the 37-year-old emergency-room physician is sitting alone at the kitchen table in her parents' vacated home, many blocks away. She has been working on the front lines of the COVID-19 crisis (she splits her time between three hospitals in the GTA), directly interacting with sick patients on a daily basis as the number of infections continues to climb. One of the most recent patients she admitted to the ICU was an otherwise heathy fortysomething man. "That could have been my husband," she says." Read more at The Globe and Mail.