On a cold winter day in December, Jey Balachandran received a call that would unknowingly change his life. Upon graduating from the University of Toronto, he followed a passion and gut instinct that would see him in sunny California working for what was, at the time, a small tech startup. Today, Jey is the Vice President and Architect of Doximity, a popular online network for health care professionals.
Jey spoke with TamilCulture to discuss his career in Silicon Valley.
1. Tell us a bit about yourself. How did you end up in the tech industry?
I was interested in working in software since I was very young. As a student at the University of Toronto, I studied Computer Science which only pushed this interest further. While looking at opportunities following university, I wasn't overly thrilled with the technology stacks used by local companies that were hiring Software Engineers.
I wanted to work with some newer programming languages and frameworks, but felt limited by the opportunities that were available in Toronto. In the midst of all this, I was reading articles on startups in Silicon Valley and figured that one day I might have the opportunity to visit and explore careers.
In December 2010, I got a call from a recruiter about possible career opportunities. Once we got to talking, initially I wasn't interested in many of the opportunities he was throwing my way. But once San Francisco was mentioned it definitely piqued my interest.
That week, I interviewed with a few companies. One of them really stood out to me. The CEO of that company called me one night and I received an offer the next morning, which I accepted on the spot.
I can't say that my family was too thrilled with the decision at the time. Nonetheless, they supported me through it. Two weeks later, I moved to San Francisco.
2. Describe what Doximity does and your work for the company.
Doximity aims to build a free and secure network for clinicians that allows them to feel more connected while encouraging cross-collaboration. Our features allow clinicians to search other healthcare professionals in the US and place referrals through our HIPAA-secure messaging system. Recently, we were ranked as the fastest growing company in the San Francisco Bay Area by Deloitte's Technology Fast 500™.
At an individual level, I started at Doximity as a Software Engineer, one of a few initially working out of a small office in San Mateo. Since then, I have learned a lot about software and healthcare, gained more responsibilities, and have grown within the company. As VP, Architect, I manage and collaborate with our engineering team on our products.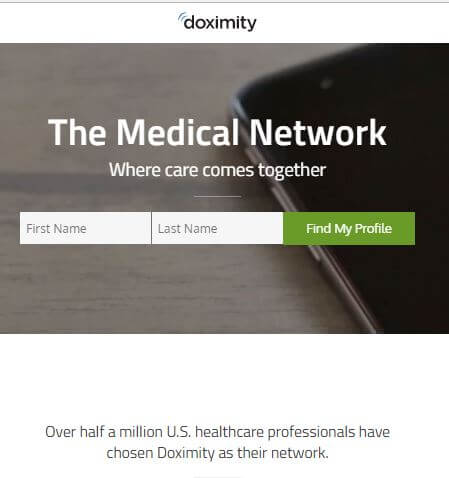 3. What is a typical workday like for you?
It varies quite a bit day- to-day. Weekly though, my time is spent in the following three areas:
● 50% - Collaborating with the engineering team on technical challenges and supporting them through mentorship
● 40% - Exploring new technologies and building products
● 10% - Growing the team and company
As you can see, it's a good mix of working with technology and interacting with people that keeps me busy and happy. As the team continues to grow, a lot of my time is spent ensuring that engineers have the resources they need to achieve their goals, and that they are being guided down a path to ultimately becoming better engineers.
4. Advice to readers interested in a career in Silicon Valley?
Knowing that many startups don't succeed is important. And with that knowledge, you must plan accordingly with adequate savings.
It is easy to be enticed by a higher salary and/or stock options in San Francisco, but people need to be aware of the cost of living here as well. Rent for a one bedroom apartment in San Francisco is comparable to a mortgage for a house in Toronto.
If you are interested in learning more about Doximity, check out the link here: www.doximity.com.
Related articles: Travis Ratnam's Startup One Of Only Two Selected for Google Demo Day From Canada Tamil founder Sundar Krish Raises $1.5M for His Start-Up Waygum to Mobilize the Industrial Internet of Things Young Tamil Entrepreneur Considered One Of The Most Innovative Startup Founders In London