Meet Rasheeda, Tamil Female Biker and Motorhead
It's not often that we come across a Tamil girl who is into bikes. I recently sat down with Rasheeda, someone who describes herself as a "motorhead".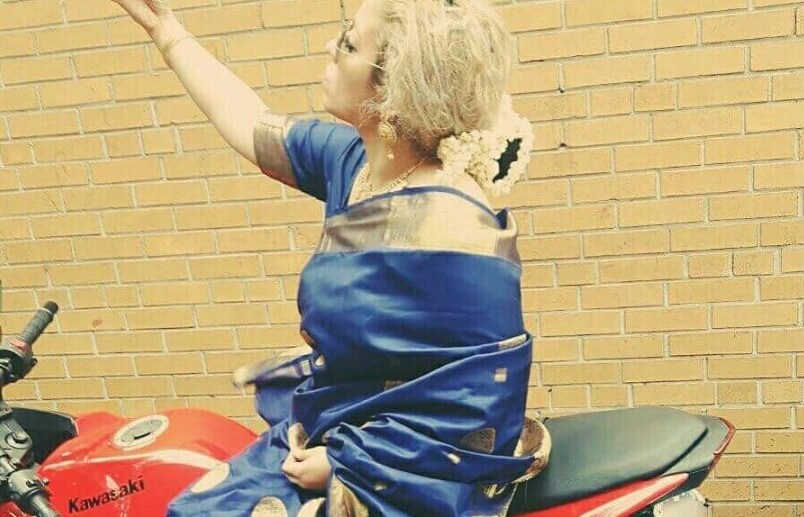 It's not often that we come across a Tamil girl who is into bikes. I recently sat down with Rasheeda, someone who describes herself as a "motorhead".
Tell us about yourself. Where were you born? Where did you grow up?
I was born in Abu Dhabi and raised around the world as we moved a lot due to my parent's business. If I could name the countries where I schooled and where I grew up, it would be Dubai, Chennai, Singapore, Los Angeles and finally Canada. Travelling was the best part because you get to experience and learn a lot about new cultures, languages and make great friends along the way.
To add to that, I am of mixed nationality - Arabian and Tamil. I speak Arabic and Tamil fluently. I graduated from the University of Alberta with a B.A. (Honours) Criminology and worked as a Correctional Peace Officer in Alberta. I am a hardcore motorhead with muscle cars and motorcycles.
I had two childhood dreams. The first was to compete in Road Racing World Championship Grand Prix MotoGP. The second was to be become an Air Force fighter pilot. It is still achievable. But since I am a rebel, my parents had a hard time to keep me "off track".
It's not often that we associate a biker with females – all the moreso a Tamil woman. How did you garner this interest?
I got my first bike when I was 12 years old. It was a Yamaha YZ-80. I was passionate about riding and owning one as a toddler. As a girl, you have to break the "typical" stereotypes. It shouldn't be a barrier to stop doing what you love.
I was never the typical kid interested in playing with dolls. Instead I enjoyed playing with tools and learning the mechanisms of an engine either car or bike with the help of my uncle in his garage. I loved chilling with my uncles in their garages and my cousins. The atmosphere in the garage was a retro style. It was not a typical garage - more like Hi Fi vintage.
Describe your most interesting drive.
My most memorable trip would be the Las Vegas 8 day trip with my friends. It was such an unforgettable experience with breathtaking views. It was surreal watching the sunset and sunrise on my face.
How did your family and friends take to your hobby? Did you have any naysayers?
It's not just a hobby. It's my passion and it runs really deep! I'm not convinced that we can learn to love riding. I feel like it was something I was born with. I also don't believe that anything will change my love of motorcycles. I've lost friends in wrecks.
Of course, I do get the same old boring statements like "you will get hurt" and "you are a girl and it's dangerous" from relatives and strangers especially. Yet my family and friends advised me but never stopped me. They weren't surprised since I loved only riding bikes since kid. Because nothing makes me happier then twisting the throttle and feeling the adrenaline pump.
You mentioned that you used to work in garages. It's a blue collar job and we rarely see Tamil women working in blue collar jobs. How was it like working amongst mostly blue collar men?
I worked to gain experience since I own 3 motorcycles:
2009 Kawasaki Ninja 250R
2011 Kawasaki Ninja ZX-6R
2015 Ducati 1299 Panigale
I plan on buying a fourth one. There were other women too. There was no difference as we all shared the same interests. I repaired and fixed my motorcycle. I am responsible for its condition. I am acutely aware of practically every nut and bolt on the machine. I've lovingly stripped and repaired or replaced most of the working parts on the machine. I enjoy this work immensely.
How is it like living in Toronto now?
Toronto is so diverse. Like Dubai, it's very cosmopolitan and has the best highways to pull a stunt during midnight. I look very much forward to the summer to ride. I ride until I see snow. Then I head to the shooting range trying different types of firearms. I love shooting firearms because of the adrenaline rush.
Do you meet fellow bike riders like yourself?
Yes, I do but in LA and the UAE. I usually recognize my friends by the sound of their bike exhausts (gosh I miss riding with them). In Toronto, I ride solo since my crew is back home.
What do you like to tell your female bikers in Toronto?
In my opinion it is the greatest feeling in the world. When you are riding a motorcycle, you hear your engine, you feel the wind, you get the thrill from the twist of a wrist. It's a sense of freedom you can't really get with automobiles. When I get on a motorcycle, it's like nothing else matters. Just you, your motorcycle and the road. Why try to fit in when we were born to stand out? If we don't live our lives, who else will?