Kali on Capturing the Times We Live In
London based Super Fertile is a jewelry design house that raises awareness of global issues through its one of a kind pieces. Each one starts with a message that is brought to life through traditional techniques and the use of precious and semi-precious materials, from the conception to final piece production.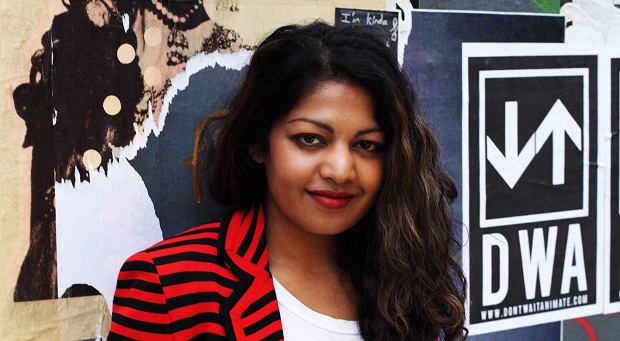 London based Super Fertile is a jewelry design house that raises awareness of global issues through its one of a kind pieces. Each one starts with a message that is brought to life through traditional techniques and the use of precious and semi-precious materials, from the conception to final piece production.
The Founder and Creative Director of Super Fertile, Kali Arulpragasam, recently completed  her first solo art show with a new collection "The World". Her jewellery was displayed as art and held its own—a matter of pride for this talented artist and entrepreneur. "One collection, in one gallery, all on its own. Because the concept, reason and efforts behind it all resonated with the language of Art." Kali talked to TC about her inspiration and drive for creating thought provoking collections that connect people around the world.  
TamilCulture: Tell us about yourself.
Kali Arulpragasam: I was born in London, UK in Clapham South All Female hospital. My family returned to Sri Lanka, to Jaffna, and I received some of my earlier schooling in a Tamil convent. We also lived in India for a few years. My mother wanted to return to Sri Lanka, but it became too dangerous for us to live there.
She brought us back to London when I was 10 as Sri Lankan war refugees. I was a war child, having already lived in 3 countries and having escaped death a few times. I was exhausted when I arrived in the UK but good teachers, counselors, and other carers, nurtured me like a wounded bird. Through school, art and design became my wings to fly and my way forward. I went on to study graphic design and advertising and worked in agencies in London as an art director, then moved on to L.A and later New York where I became a creative director. That's when I decided to start my own label: Super Fertile.
TC: What drew you to designing jewelry?
KA: A few different things. I didn't speak much in school, always observing what was happening around me as I was thrown into new schools and cultures every few years. And I didn't have a perfect, normal, family or childhood but I found that I could trust art in the midst of all that.
Having an absent father and a mother who allowed me some freedom meant I could choose my own path. I enrolled into my own courses and got grants to develop my skills. I went to museums, galleries and agencies I respected in London, New York and L.A.
I just left my family and when I was at the top of the ladder, I quit. It was a big gamble. A big risk. But I wanted to do something that was honest. Something true. Something that reaches out to the masses in a positive way and connected with people.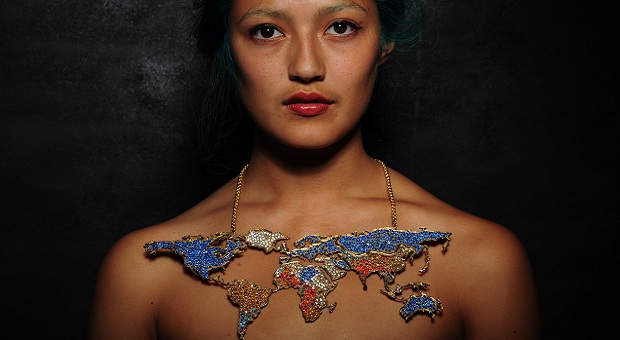 TC: Who have been your mentors along the way?
KA: I think apart from my teachers, at college, I also closely followed directors and visual artists. I remember seeing Tony Kaye the director of American History X in London giving a talk when I was 16. I followed his path to advertising, to the agencies he worked at and befriended him in L.A. He offered me invaluable guidance.
I usually put myself close to people who inspire me, without letting their influence overpower my vision, because I've always wanted to end up doing something that is all my own.
TC: What are the best things about your job?
KA: I don't have to answer to anyone. I create my ideas. I love to see how my work looks on people and how they react to my work. It has a way of bringing me closer to people I would not have met otherwise and to reach out to and belong to many groups. I guess I'm lucky. So far I've received nothing but love for my work and it's so rewarding because I work hard to maintain that. I feel like I have a responsibility and the means now as an artist to bring forth difficult issues create awareness, understanding, unity. That is such a good feeling.
TC: Where does your inspiration come from?
KA: It comes from the news and my research. As an artist, I am lucky to live in an age where I can pull up anything in an instant from my phone. People ask me where I get all of the information that inspires my pieces, but it's all there on the internet. There are so many things like this that are right there, that are all around us, but not acknowledged at all. So I take the time to make it my work to call everyone's attention to these things, to discuss and debate them.
My last collection "Murder", was something I felt I wanted to do, whilst the last part of the war in Sri Lanka was going on and I felt helpless being in London while the rest of the world ignored the war crimes being committed. So,  some things come to me and others I take the time to look for. I think this quote from Benjamin Disraeli sums it up: "Nurture your mind with great thoughts, for you will never go any higher than you think."
TC: What kind of impact do you want to make through your art?
KA: I just want to bring awareness to issues, ask difficult questions. Demand answers. To bring unity and promote peace and progress. To capture the times we live in. I think my role here is to keep the issues on the table. Also push the system and open doors for others.
TC: What advice do you have for others pursuing careers as designers?
KA: Have no regrets. Make your own rules. Keep at it. Be brave. And have faith.
I had to make sacrifices but in the end, I am doing what is important to me. I think when you come from Tamil culture you are influenced by the older generations who have a set of rules that they came with abroad. But that doesn't work for us. We have to adapt to survive. And aim to do more than survive. Aim to succeed and aim to lead. Bring something new to the table as there is always room for that.
TC:  What advice can you share with those who are pursuing their own business?
KA: Don't trust the bankers. It's always good to get an independent backer, who is there to take care of bills. It gives you the freedom to explore ideas, to improve and develop. You need to work hard and wear many hats. Sometimes you have to make cuts and change your plans—be flexible. I tend to pretty much dabble in everything; from design, head of production, promotion, scouting models to putting make-up. So, be versatile and keep learning on the job and adapting to the future of your industry.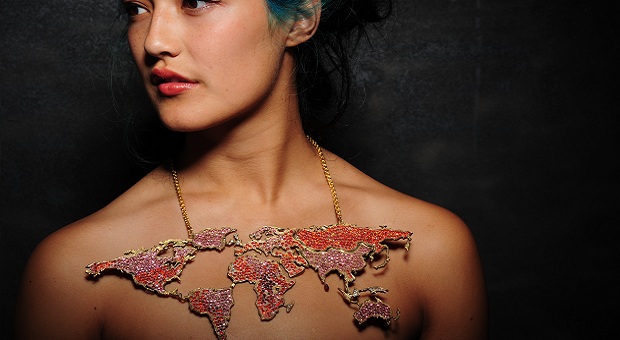 TC: What has this year been like for you? What can our readers look forward to from Super Fertile?
KA: I've just launched "The World" which is a social commentary on the current state of our world. Maps of indexes from child labour, income rates, global peace, people living under $1 a day, human rights and wealth inequality –24 different indexes showing the data in total—are set in stones.
I did my first solo art show in East London at Maurice Einhardt Neu Gallery from September 6th-26th. And, I'll be giving a talk about one of my past collections "Tourism" which is exhibited at the Graphic Design Festival in Museum of The Image in Breda, Netherlands. 2012 has been a really great year and who knows what's next –maybe my jewelry taking over globally!
The more I create the more I realize that I am comfortable in the world of art and I wish to stay here til the end. I've always treated my jewellery as miniature sculptures and I want to continue to make my jewels/wearable art on larger scales.