You Can Now Buy Tamil Cookbook Handmade Online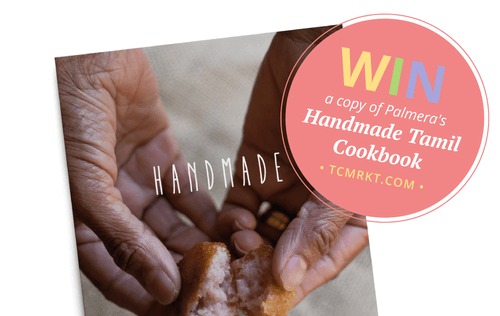 HANDMADE is a cookbook which tells the incredible stories of 34 widows of the war in Sri Lanka. The women featured are from the North East of the island nation and throughout the book their relationship with food and recipes during the war, in the refugee camps and whilst rebuilding their lives, is shared.
At just $35 Canadian, this is a great purchase, with proceeds going to support initiatives by non profits Comdu.it and Palmera. You can grab your copy at TCMrkt.com today (ships globally).

TamilCulture is also giving away a free copy of Handmade to a lucky reader! Find the details here on our Instagram post.
With beautifully transcribed stories combined with stunning photography, the book reveals the journeys of these women alongside the meals they cook and what they dream of providing for their families in the brighter future.
HANDMADE came about organically when Palmera, an Australian based charity that has worked in the North East of Sri Lanka since 2004, saw how food featured heavily in the lives of the women they work with.
'I see their strength in things they may never notice. How they cook from scratch with just a few utensils; how they manage to pay all the bills and give their children food, even when there is little money coming in; how they somehow manage to keep their families together even through the many hardships they have endured.' – Abarna Raj, Founding Director of Palmera
Related Stories:
https://tamilculture.com/sweet-mung-bean-mash-pachai-payaru-sundal/