A Healthy Twist to Sri Lankan Food
Authentic Sri Lankan cuisine include a distinctive and exceptional variety of tastes combined into one cooked meal. It is often presented in a certain way in order to remind us of that mouth watering taste every time we hear or see each of these remarkable dishes.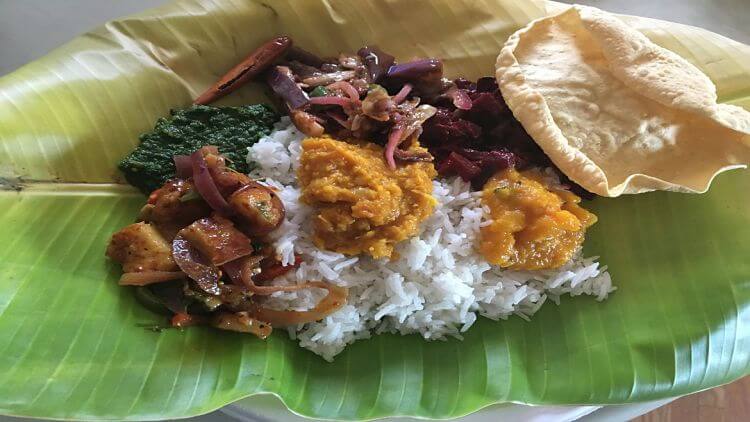 A traditional Sri Lankan meal includes a handful portion of red or white rice, one to two curries of locally sourced vegetables, one meat or seafood curry, one green sambol and a pickle, to allow the various tastes blended in together.

Sadly, locals have forgotten the optimal combination of curries and carbs, and sometimes favour meals with oversized portions of rice (I am guilty of this), excessively oily vegetable dishes (which kill the nutrients), and meat dishes with over sized meat portions as well. Mass production and the need for convenience has altered the health benefits of Sri Lankan food.

[embed]https://instagram.com/p/BWp2eUwgiBt[/embed]
We are so fortunate to have the opportunity to learn these culinary masterpiece recipes through our parents, so why not make use of them to create healthy lifestyle adjustments? Let's look at a few ways you can make your Sri Lankan meal healthier while you are making it your favourite cuisine!
Always go for a smaller portion of rice
Sri Lankans are used to serving a big rice portion that would be more than enough for two people to eat. Serving a smaller portion or serving curries and vegetables proportionately will lead you to a much healthier lifestyle. If you get the chance, you can even replace your white rice with red rice, which is much healthier and will definitely help you get in shape if this is something you are concerned about.
Always add a green leaf salad to your meals
Keerai might not be your favourite part your Sri Lankan meal, but it is one of the most important items that you should include in your daily meal. A fresh green salad or a properly cooked Keerai is heavy in fibre and antioxidants depending on the type of leaves you use, but either way, adding one green salad to your daily meals is one of the smartest meal choices you can make.
Add the proper proportion of spices
Normally as Sri Lankans we need our food to be filled richly with spices, since we've been eating well marinated food our whole lives.
In the face of such articles, it is easy to forget the health benefits of spices. In the earliest days of trading, Sri Lanka was known as the "Spice Island". Spices have been an essential part of our long history and cultural heritage due to their use in foods to enhance taste, as well as their health benefits.
Do not overcook your curries
Some of us prepare vegetable curries that are overcooked and basically stewed into the curry itself, essentially missing the nutritional properties of a properly cooked veggie curry. Properly cooked vegetables will give you a lot more nutrients than overcooked/boiled vegetables. This is a scientifically proven fact. So when you are cooking your Sri Lankan dishes, be aware of the nutritional concerns of different cooking methods. Eat to fuel your body, not to feed your emotions!
Replace your carbs with Quinoa, brown rice, bulgur etc.
While most of us have the opportunity to easily source any local grain at the nearest supermarket, we tend to include bread or naans in our meals. This means that we often avoid the healthy nutrients that we can get from grains and other healthy carb alternatives. If you are a health conscious eater, this probably is an item to think about.
[embed]https://instagram.com/p/BXN4pdSgNN3[/embed]
Remember, MODERATION is KEY! Moderation is a subjective term because it means something different for each person. For one person, eating moderately could mean eating half a roti with curry, while for another, it could mean having two whole wheat rotis instead of white roti. Many people have a biased idea of eating moderately.
Moderation is a complex word but it is also an important one. Learning to eat in moderation can help you achieve and maintain a healthy body weight without having to restrict your food intake. Have you ever gone on a diet, only to fail? Have you ever tried to cut out sugar, meat, or flour, only to crave it so badly that you wind up bingeing? I don't believe in diets. They rarely work. I do believe in healthy lifestyle changes, but deprivation often backfires.
I believe in eating healthy, but I'm not afraid to eat an occasional pizza or cheeseburger. When we focus on diet, we usually set ourselves up for failure. It all comes back to slow changes vs. fast changes. Rather than cutting out certain kinds of foods completely, I favour eating in moderation.
I live by this, I enjoy all types of foods while following these three important keys to eating healthy: BALANCE, MODERATION and VARIETY.
[embed]https://instagram.com/p/BV-EXtqgN9O/[/embed]