How I Think Through A Problem
It was a Sunday afternoon, tense as usual, seconds before we were going live. I was at a weekly gig, hosting a television show on a Canadian Tamil station.
As my producer yelled out last minute directions, my unfazed guest leaned over to peer at my notes. "Huh…interesting", he said, stabbing at the big bubble drawing in my hand.
Those drawings can be found in my notebook at work, hanging over my desk at home and on random post-it notes stuffed into my purse. Over the years, I've had many people tap on the illustrations and ask, "what's that?" At the end of their fingertips is a whole bunch of circles, lines and, I'd like to think, great ideas.
These doodles are my secret to being more creative – whether I'm about to interview someone, design a marketing campaign or plan a camping trip.
They're called mind maps – a way to visually represent the thinking around an idea, plan or problem. Tweets by Tony_Buzan " target="_blank"">Tony Buzan is credited with inventing and popularizing them in the seventies.
The big idea behind mind maps is that they amplify your creativity by mimicking how your mind thinks best, which is in a random fashion. Usually, when we pick up a piece of paper and sit down to brainstorm out a plan, we draw up a list. This limits us to thinking in a linear way. It's the equivalent of calling in the team for an open brainstorm and assessing each idea as it gets shouted out. Most good mediators will tell you – let people talk, jot it all down and then figure out what works. The rationale here is that stemming the flow early on in the process can kill your creativity.
What can you mind map? Just about anything that ends up as a list. I have mapped what to put in a short radio documentary. I've drawn up how to best use marketing dollars over a quarter. I've even used a map for what to take on a beach vacation in Panama.
[caption id="attachment_15334" align="aligncenter" width="440"]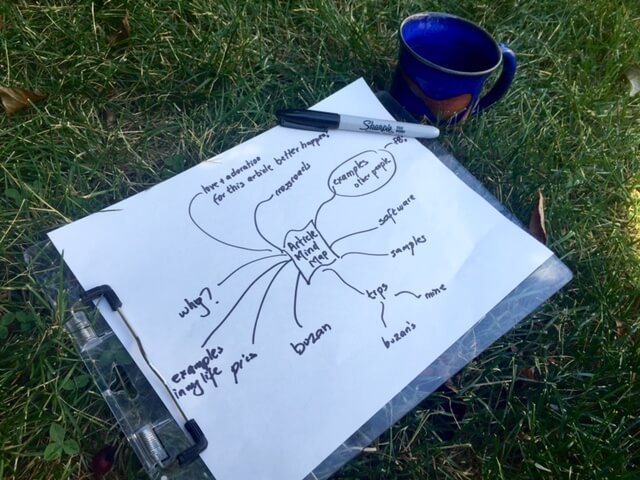 My mind map for this post.[/caption]
THERE ARE MANY OF US
I am not alone in my love of these little bubble drawings. I fished around on Facebook, and found several others who depend on mind maps.
Make-up enthusiaist Nala Bala
turns to them for much more than work.
 "They save my life
. I use mind maps for long term personal goals, work projects, risk analysis, process simplification, even daily tasks," she comments.
I came across teachers who use them with students, and social workers who use them in their sessions. Relational therapist Jennie Ormson of The Nook writes, "I use them frequently with clients - it helps calm the chaos and give direction".
[caption id="attachment_15325" align="aligncenter" width="355"]
Relational therapist Jennie Ormson of The Nook displays one of her mind maps.[/caption]
Benjamin Dixie, director of PositiveNegatives leans on them for his work inside and outside academia. "Every chapter of my PhD was mapped out in a mind map. Also all my comics begin as a mind map," he writes.
BUT WHY?
Still not sold on the idea? Let's pretend for a minute that we want to launch a new company. We grab a coffee, hustle for seats at Starbucks amongst all the other aspiring entrepreneurs, and start thinking about how we get it off the ground.
Like most good brainstorming sessions, we'll be all over the map. You may mention some critical tasks like creating a business plan and finding some starting capital. I may ask how we can accommodate this in our lives and think of an uncle with a network that may come in handy.
A mind map gives us a way of throwing all those suggestions, hopes and fears on to one page, without order. Just keep thinking and thinking.  When you start slowing down; stop, breathe, then transform that map into a list. What you end up with is something that is more extensive, more thorough, more out-of-the-box.
IT'S NOT PERFECT, BUT IT'LL DO
Tony Buzan offers up tips on
how people can go about mind mapping
. My technique can best be referred to as speed mind mapping with a small dose of laziness thrown in.
I don't use colour, I use far too much text and scribble them out in minutes. My reading of Buzan's work tells me that I am not using the idea to its full potential. But even in such a limited form, it works wonders for me.
The maps help generate offbeat questions for my interviews as a journalist. I use them to develop better to-do lists daily. I have one map I look at every morning with my big projects for the year. It's much better than staring at a page of text that spells out my resolutions.
Here's how I mind map:
Grab whatever is nearby – even if it's the back of napkin
Draw a bubble in the middle, and add a key word
Write down everything that comes to mind and connect it to the main bubble
 Transfer the map into an organized list or on to another organized map
YOUR FIRST MIND MAP
If you've never done one, perhaps it's time to give it a shot. Like all things these days, mind maps have merged with technology. You can turn to 
iMindMap
 or 
mindjet
 if you want to do these on your screen.
Tony Buxan's website offers a quick interactive course on the art of mind mapping. Your maps need not be big, thorough or beautiful. Just find a seat in the sun, get out a pen, the back of a napkin and let your brilliant ideas spill out on to the paper.