You come home from a long day of work to be greeted by the loneliness of a silent house. You just want to unwind, meet up with some friends and have some fun. But as much as the idea appeals to you, you let out a groan as you remember all the work you still have to finish. You let out a sigh and think that maybe it's possible to go out just for an hour before you tackle getting all that work done.
So you call a friend or two and the response is the same – they are going out with their partner. They apologize. You say "no problem" and you hang up. Exasperated, you toss the phone away, grab your files and plop yourself down on your laptop and get ready to finish what needs to be done.
And you wonder to yourself "if only you could have a partner just like them, someone to cuddle up next to, talk to and share your hopes, dreams and troubles with." And as wonderful as that thought is, you shake your head in dismay as you contemplate your pathetic, nearly non-existent dating life. And you begin to seethe in anger and self-pity for not investing enough time in a social life to meet that special someone.
You glance at your computer screen and see an ad for eHarmony. Slowly, you move your cursor over and feel tempted to click. But doubt settles in. Questions race in your mind. "What if I only get matched with creeps, crazies and stalkers? And even if I meet someone... how would I explain the fact that I met them online? It would be embarrassing." Gradually, you are engulfed with so much uncertainty and doubt that you refrain from clicking and go on with your work. Bars it is then....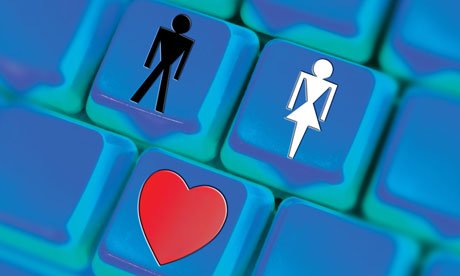 Sound familiar peeps?
Sure, it would be nice to be in a room and feast your eyes upon someone you have an instant connection with. To walk towards them with flashes of your future resonating in your imagination as you make your way over, ready to strike up a conversation and to set the foundation for your everlasting happiness. It would be wonderful to share your story with others and say down the line that it was fate that brought you two together.
And not the click of a mouse. Or that loneliness and desperation drove you to a speed dating event where you had several five minute first dates with "randoms" in the hopes of clicking with at least one so your money didn't go down the drain. Yes, there are many things that would be nice in this world. But sometimes it just doesn't get delivered the way we expect it to.
After all, you're not a vagrant. You hold a good job. You're self-sufficient and independent. You have your core group of friends that you hang out with. And you're not one to hold back from throwing back a few drinks and enjoying the sociability of the environment. However, in your busy lifestyle as a young professional, it's become increasingly difficult and even disheartening to find a compatible significant other.
To help make your romantic endeavours come true, there are plenty of tools at your disposal. Granted, they may not be the traditional method of meeting a potential partner. They may not even be the most romantic, or bring out in you the heart-pounding excitement and passion as you've seen in the movies. But they are there and they act as a light at the end of a lonely tunnel. A beacon of hope for all those supposed lost single souls. Be smart and utilize it. Otherwise, suffer the wrath of singledom... until your family matches you up with a "proposal" and calls it "arranged marriage"!
Avenues such as online dating and speed dating give you a chance to meet a wider array of people than you would normally through your work, friends and usual social settings. And it is because we live in a busy world that these avenues exist. Look beyond yourself and actually think about how many people are out there just like you, who want to have a meaningful relationship with someone but simply don't have the time. If you want to find someone then it takes effort and commitment just like your career. And it should not be viewed upon as shameful or as something that holds less value just because it is outside the traditional norms of dating.
I know a good number of people who have tried online dating and speed dating and who are now in happy committed relationships. It is through their experience that I speak of hits and misses. Yes, it may be daunting and scary if you are a first-timer. You have no idea what to expect and feel somewhat blind and inexperienced to handle something like this. You have no idea if the person is who they say they are, or if you're going to have anything in common to make this date remotely interesting. After all, you're walking into unknown territory. But as you slowly set one foot into the unknown, you realize that it's not nearly as bad as you had thought. It gradually becomes an easier process to go through and you end up meeting an assortment of interesting people.
If you want to try online dating or speed dating, my advice for you is to just do it. Don't allow questions, doubts and fears to hold you back from trying to find love for yourself. When you stop to over-think or over-analyze situations, it not only takes away from the whole experience – it also takes away from the opportunity to meet a really wonderful person who is hoping to meet an equally wonderful person such as yourself.
In the end who knows? Just because you didn't meet someone in a conventional social setting doesn't mean this isn't for you. Maybe – just maybe – this is way fate had intended for you to fall in love. Think about it.

TamilCulture is hosting "15 First Dates", a speed dating event and social mixer for Tamil young professionals. To find out more and to register, visit www.planetreg.com/E13185414889.