Who Do You Want To Be When the Mask Comes Off?
If not me, who? If not now, when?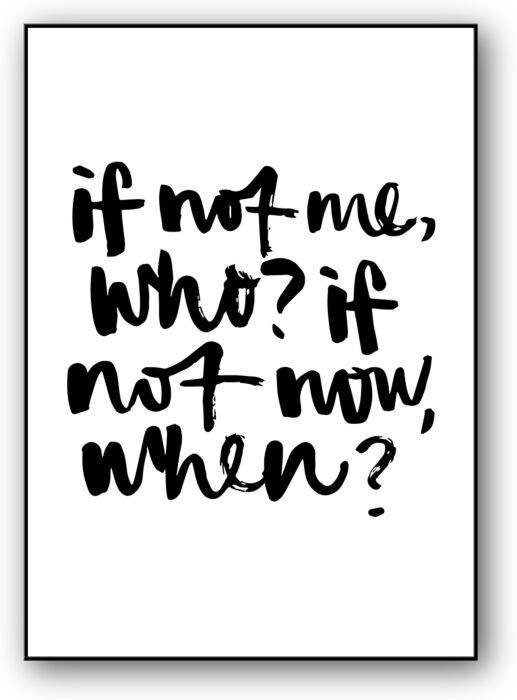 This is a quote I have been thinking a lot about lately.
COVID-19 is changing the way we work, the way our government works, the way our society and institutions work. And we're all affected by it.
Once this is over, there will be lessons to take away from this crisis. And among the most valuable, I believe, will be the need for each of us to take control of our own destiny.
COVID-19 has touched all of our lives. But how you experienced those changes probably has a lot to do with what you do for a living.
Some of us have learned to work from home. We've had to juggle a busy work schedule with childcare (familiar ground for freelancers and entrepreneurs) but we're getting through it. In fact, home-based work may become more commonplace in a post-COVID world. There have been moments of calm, moments to share a laugh with family, to bake, to listen to music, to catch up with friends online.
Some of us have lost our jobs to COVID-19. Statistics Canada reported a 7.8 per cent Canada-wide spike in unemployment in March. And the dust hasn't settled yet. Take the restaurant industry, for instance. A report by the non-profit Restaurants Canada shows 800,0000 restaurant jobs lost in March — 300,000 in Ontario alone.
Times are hard for many of us.
Add falling oil prices to the picture and there's potential for even greater loss. Oil and gas still accounts for 5.6 per cent of Canada's GDP and somewhere between 11 per cent and 20 per cent of our yearly exports, according to Natural Resources Canada.
But through it all, others continue to go to work, and many are working harder than ever. That includes our brave healthcare workers, who hold the front line in the fight against this disease.
But it also includes the manufacturers, food service workers and delivery people; the people who stock our shelves, deliver our food and packages, the ones who kept our economy moving through all of this.
While some businesses close or hunker-down, hoping to weather COVID-19, major service-sector employers are hiring rapidly — businesses like Walmart, Dollarama and Loblaws.
A recent Financial Post article paints a grim picture of the conditions some of our lowest-paid workers are facing, including call centre workers sharing close-quarters and delivery drivers with inadequate supplies for cleaning their vehicles.
I think we need to be more appreciative of the people who are working on the front-line. They risk their health and wellbeing for us and we need to honour that.
And I believe it's crucial to be able to navigate your own path. And that requires skills that make you stand out in the job market.
Perhaps most of all, COVID-19 taught me the value of having skills that allow you to choose your own role, skills that lead to work with options, with security, the opportunity to grow.
That was the vision we had in mind when we acquired Computek College. We wanted to give new Canadians a chance to develop practical skills that would not only lead to work and offer a competitive edge over their competition but also to careers that felt meaningful and secure.
That mission feels more urgent now.
Here is what I propose: as life starts getting back to normal, we start asking ourselves: What is my genuine path? Who do I want to be? And critically, who does society need me to be?
We should ask: "If not me, then who? If not now, then when?"
***Looking to create your love story? Join the other couples who have dated and got married through myTamilDate.com!***
"How a Message on myTamilDate.com Led to an Engagement for Lavanya & Vitharan"