Unmarried, No Kids. What Are You Doing? This Tamil Hip Hop Trio Answers Family Pressure With Bangers
For All Mixed Up, rap is a family affair: 'Dirty 30 is basically a diss song to every parent that asks this'.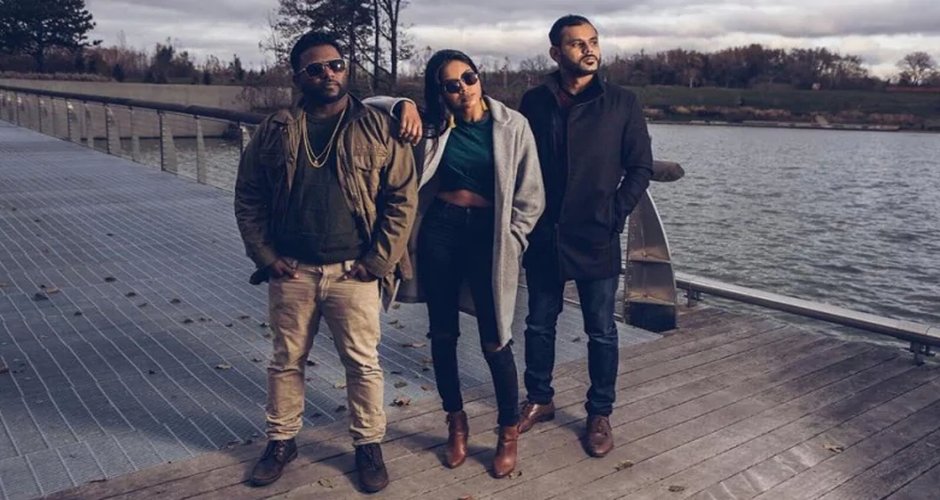 It's a sultry June evening; the weather in Toronto feels more like a sizzling day in Colombo. Tamil hip hop trio All Mixed Up and their three-person entourage are crowded around the coffee table in the home studio of Stokley McDonald, one of the group's producers.
As the electrifying dusk slowly gives way to buzzing streetlights, each one of the trio at one point disappears into the recording booth unleashing their spitfire bars. They rotate turns: while one records their verses, the other two sit out on the patio furiously scribbling on notepads.
When the group hears strains of the first mix — comprised of Tamil melodies with English verses set against an Afrobeat rhythm — drifting out of headphones on the coffee table, they start to bounce in their seats.
"This is a hit right here," Rocky Jeyam, 37, the group's manager says enthusiastically.
"This is it, this it, cuz," says Barath Jeyam, 31, giving Geerthanan Thiviyarajah, also 31, a dap. Meanwhile, Naveeni Athanosious, 29, beams from her seat. She hums along to the Tamil lyrics she'd come up with just two hours ago.
The song is part of an EP the group plans to release this summer, says Rocky. He predicts the group's ability to play with different musical genres will appeal to a larger audience beyond Tamil-speaking Canadians.
Making music is a family affair for All Mixed Up. The trio — made up of cousins Barath and Thiviyarajah along with Athanasious, who is the sole female performer in the crew — go by their rap names Question416, Geeth and Navz respectively. Rocky Jeyam, Barath's older brother, was part of Toronto's music scene more than a decade ago, releasing three albums under his label Meditating Minds Entertainment.
The Jeyam brothers and their cousin Thiviyarajah have generational musical talent and interest: their grandfather and uncles used to organize stage performances in Sri Lanka in the '50s and '60s. That legacy continued on in the younger generations who left the island nation. After a civil war broke out in Sri Lanka in 1983, many Sri Lankans fled to Canada. The Jeyams' father arrived in 1984, and the rest of the family followed in 1987.
*Read the rest of the original story published on https://www.cbc.ca/.*