Ever since I was little I have been enamored by the world of cinema. Watching Indian films in particular has always been my most obsessive hobby, which I eventually turned into a career, with the help of my education, passion, some fancy footwork and a ton of perseverance.
But I have to admit that at times, it still feels surreal to me that I've reached the point where I can walk on to an Indian movie set, and not be forcibly removed by security. 11-year-old Dilani (the age at which I decided I wanted to be a Tamil movie heroine someday, or close to it) would be pretty proud of my current self. So I think it goes without saying that my first day on a Tamil movie shoot here in Chennai was truly memorable. In fact, every day I'm on one is a fascinating look behind the curtain for me.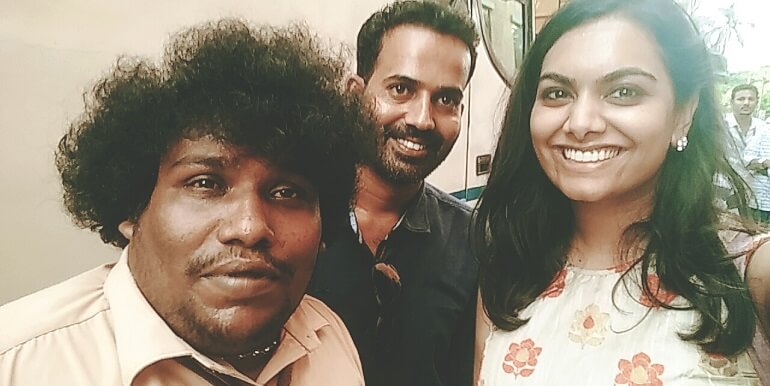 In my rational mind, I always knew it couldn't be as simple as "lights, camera, action!" But I don't think I was ever quite prepared for what I would stand amidst; I watched with awe on that first day of filming for "Aandavan Kattalai", the new film from my friend and business partner, director M. Manikandan, starring Vijay Sethupathy and Ritika Singh.
I had never been on a film shoot before, until that exciting day this March—not counting the few times I accidentally walked on something being filmed in our Toronto International Film Festival offices during the years I worked there—so it was a lot to take in. My eyes continuously darted around the high school floor that we filmed on, as dozens of crew members and my friends on Mani's core team ran around frantically.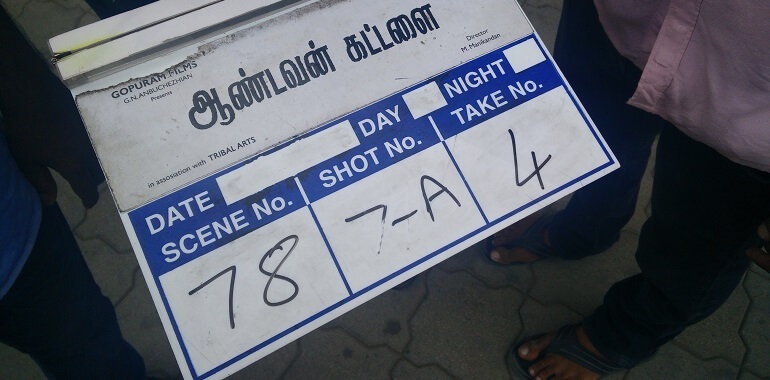 I did not know whether I should watch the performers acting in front of me live, or all the other activity going on around me—which included the immediate commotion every time a scene would wrap. Without fail, or a dip in their energy, on-looking fans who are allowed to watch the shoot in silence, instantly thronged around our lead hero and heroine for selfies (security badges and IDs aren't necessarily a thing here).
As Mani directed those in front of the camera as well as behind it, to extract everyone's best performances, our cinematographer, Shammy, used the camera to focus in on just what was needed to create an entirely different world on the monitor from what I stared at in real life. And while they sat in the centre of the field, dozens of others worked away at different parts on set.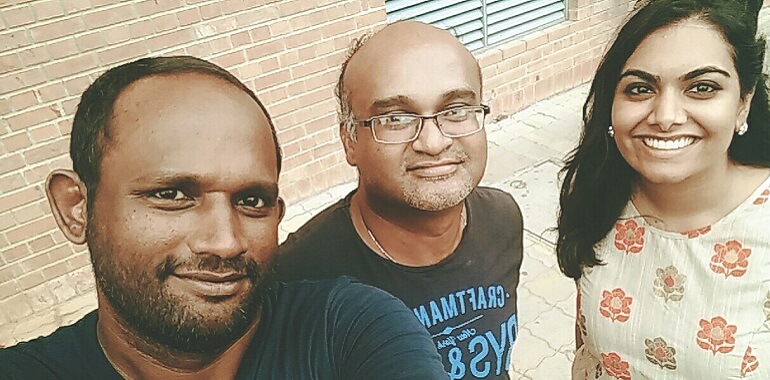 To name just a few characters, there was our writer, the sweet and humble Arul Chezhiyan sir, who watched to see how his characters came to life via Ritika and Vijay; Moorthy our jovial art director and his team, building sets so convincing that I did not realize that at one point I was leaning on a fake, hollow wall and almost fell through it; Hari, our quiet but tough, production manager, doling out the dough to keep things running day to day; Anu, our editor, who I knew was mentally gluing together what he saw in front of him like someone pieces together a puzzle; and Rangs, our resident cool guy and production executive, my favorite person to hang out with during shooting because he somehow knows exactly what's going on at every corner of the production.
And then of course there were the hardest working people on set in my opinion, the energetic assistant  and associate directors, like my friends Stephen, Satheesh and Jai, who I enjoyed watching float around the shoot, anticipating the director's needs in every scene, while mentally preparing for the next. Looking back, I think the best way to describe the atmosphere on set that day, and every day I've witnessed Aandavan Kattalai in the making is 'organized chaos'. Somehow everyone knows where to be without being told (minus me, I always end up accidentally—or maybe not accidentally—in frame).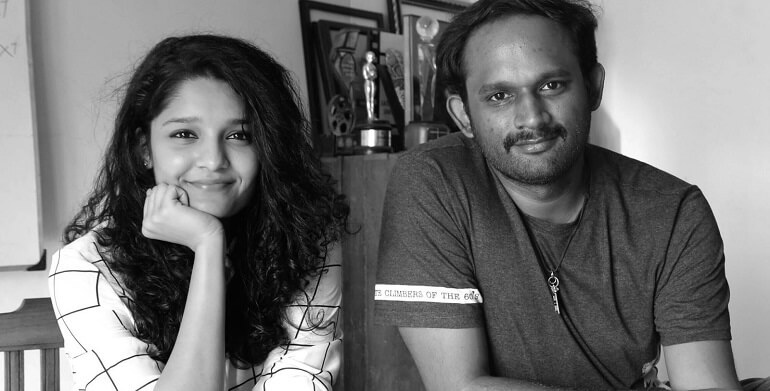 Having said all this, it doesn't escape me for a moment that I am watching the magic of filmmaking from a very special vantage point. I am so grateful to be considered a part of this film's team, despite the fact that all I usually do on set is observe, get asked by fans watching the shoot if I'm an actress (which they guess based on my accent) and eat tasty production snacks.
My work to market and manage part of this film's journey will begin only after the shooting is complete, but the entire unit has made me feel like a part of the family from day one. We pass by the scorching hot days of the Chennai summer, joking around and making fun bets with each other in between scenes (no one listen to Vijay Sethupathy, I do not owe him money).
[caption id="attachment_15002" align="aligncenter" width="612"]
Photograph courtesy of Riyaz.[/caption]
It is a particularly dedicated, earnest, trustworthy and honourable unit, where everyone feels bonded by the spirit of filmmaking; and all of this is something I know for a fact is truly rare in this cutthroat industry.
What's also rare is that I get to watch a director who craves authenticity in every shot he takes—which means that I got to follow along in a production car as he and Shammy sir hopped on bikes with a camera to capture real life Indian traffic! It means I got to see filmmaking in what I imagine is one of its purest forms; where the focus is on genuine storytelling, which is exactly the reason I fell in love with movies in the first place.
Mani also craves efficiency, which is why (by the time you read this piece) shooting on the film is almost done! I was there on day 1, the first time he called "action" on his third feature film, and now I look forward to watching the scenes I saw being performed in real life come together in post.
I can't wait for you all to see the film. And to my friends and colleagues, rest assured, every time we watch Aandavan Kattalai I will be that annoying person who points out the scenes in which I was standing just to the right of the camera, watching some masters at work and movie magic being made.
https://www.youtube.com/watch?v=lrdX-c27-rM