HE ASKED, I SAID YES YES YES!!
When I first met Paheer, I knew he was the one. However, I had no idea how he would ask the big question. We both live and work in Toronto and have taken many trips together. This time he suggested we go to Dubai. On our first date, I was trying to convince him to watch Sex In The City 2 because I loved everything about Dubai. During my high-school years, I would email myself articles and photos of the main attractions in Dubai as they were being built. Funny enough, our first date was also at a sheesha lounge.
Coming back to the story, it was mid-April and our trip was booked (tickets & hotel). Paheer had booked the tickets for all the excursions there as well. He knew it was busy season at work for me and I had no time to focus on the trip. This worked out in his favour as well as he did his planning. I'll admit, I helped in no way and was beginning to feel guilty.
Fast forward, we arrive in Dubai. On our second day (May 30th, which is when he asked me to be his girlfriend few years ago), he took me on a desert safari that evening. I was a little surprised by the heat that I did not focus on any clues he might have left behind. That evening, we were picked up from the hotel and little did I know that our driver was also in on the proposal, as he would ask me questions such as "are you both siblings?" to throw me off. He was great!
After a beautiful tour of the city, we finally arrived at the desert where we met some other tourists as well. We all watched the falcon show together and went for a dune drive. All of the sudden, our driver drifted away from the crowd suggesting we would get better pictures. I thought it was extremely kind of him. He got us posing and took a few shots that we will definitely cherish.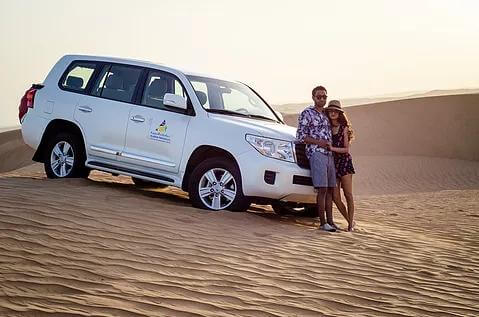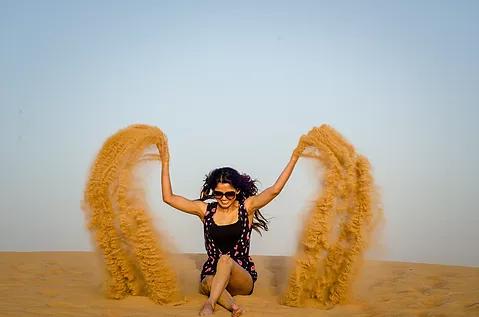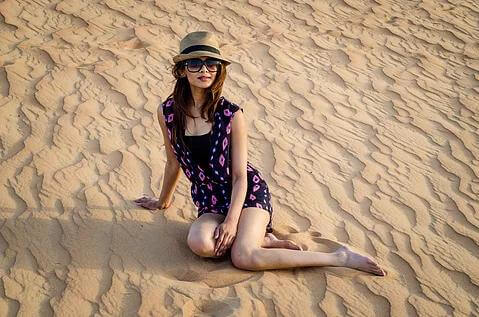 Finally, we started driving again and in the middle of the desert with nothing around, a camel was waiting for us. We hopped on and went on for a ride. It was so romantic and items on my bucket list were getting checked off. Right when I thought life couldn't get any better, I saw something magical from afar. There was a large carpet, drapes, candles, flowers, lanterns, flames and of course, sheesha. There were a few men waiting for our arrival. As I hopped off the camel, I was in shock. I was so used to him spoiling me with romantic surprises all the time (yes I know, lucky me!) that I never thought anything of it. I was still in amazement when I realized that Paheer seemed nervous - which was unusual. He didn't even have a sip of his wine the whole time. That's when I thought to myself , "OMG, is he going to propose??!!".
I quickly searched closeby to see if I could spot anything suspicious, but there was no ring box in sight so I was convinced I was being ridiculous. After sometime, he started playing a slideshow of our pictures with our favorite songs. Before I knew it, we are in the middle of a group of candles formed a heart and he was on one knee! He began to speak and his words overwhelmed me with emotion. Looking back, what Paheer did for me was beyond my wildest imagination! I got to go to my favourite place and the love of my life proposed to me - what more can a girl ask for?
Looking to create your love story? Join the other couples who have dated and married through myTamilDate.com!
Related articles:
I am a Tamil Woman in Love with a Sinhalese Man Norway Meets Switzerland In This Tamil Love Story Love Can Be Better the Second Time Around Why I've Decided to Get an Arranged Marriage Observations of a Happily Married Tamil Man