Tamil-Canadian Co-founders of Spontivly App Aim to Change the Way Communities Connect
I recently had the opportunity to sit (virtually) with Anthony and Raj, to learn more about Spontivly, their message to other Tamil entrepreneurs, and who's really better between the Leafs and Habs.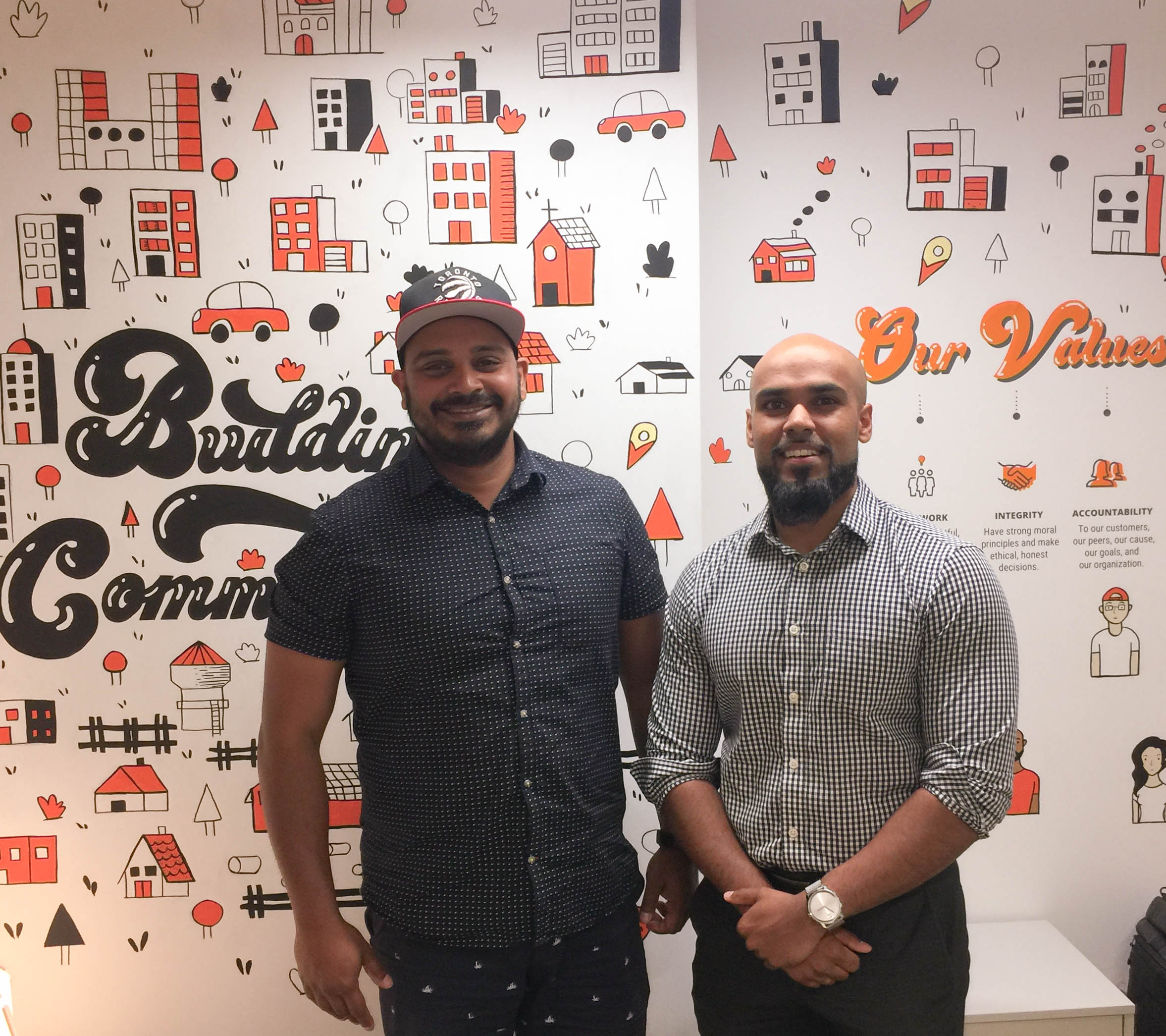 The NHL's oldest rivalry, featuring the Toronto Maple Leafs and Montreal Canadiens, dates back to when the two teams first faced-off in 1917. Even over 100 years later, most hockey aficionados would assume that the chances of seeing two diehard fans - from opposite fanbases - working together is virtually non-existent; that is until they meet 38-year-old Anthony Nagendraraj, Founder and CEO of Spontivly, and 26-year-old Raj Rajakumar, Co-founder of Spontivly.
After spending the majority of his childhood in Montreal, Anthony settled down in Edmonton in the mid-90s. Raj, who grew up in Toronto for the entirety of his life, moved to Edmonton in 2018. A few weeks later, the two met while playing hockey, bonding over this mutual interest, the fact that they were both Tamil, and more so, the fact they had both struggled to integrate themselves within their community upon moving into it.
What is Spontivly, and how did its name come to be?
Raj: Spontivly was launched as a mobile and web-based platform, with the intent of helping connect people to their communities, byway of hyperlocal experiences. Our focus was on streamlining administrative processes to save time, money, and labour resources at an organizational level when it comes to event management.
Initially we were going to call ourselves Iungo, which means 'to join' in Latin. We were a room full of about five people, just brainstorming about what we were going to call ourselves. Anthony stood up, walked to the whiteboard and wrote down Spontivly, and it just sank pretty hard - we were all like, that actually sounds really clean. The name Spontivly, is a play off of active living (activity) and spontaneity.
Spontivly recommends activities that users may like to participate in - how does this work, and how has the pandemic affected the app's original purpose?
Raj: Most of it is pretty technical, involving A.I. and machine learning. The simplest explanation is to think of Spontivly as a virtual community manager; you create a profile, set your preferences, and Spontivly suggests activities in your city, based on this information.
Our goal is to help people better engage with their communities so that we can rid the world of social isolation and loneliness. Technology has greatly benefitted the world's advancement, but it can also prevent meaningful connections with people constantly glued to their screens. Obviously with COVID, we need to adapt to the times, and that's what we did.
We noticed that people were using social platforms to inquire about grocery supply stock. Many of the responses were getting funnelled into the comments, meaning for someone to sift through all those replies would be quite timely. With our app being a crowd-sourcing platform that doesn't require any administrative approval, we modified our service offering to help solve this issue. Local news agencies caught on and this boosted our users from 600 within the first month of launch, to over 4,000 users within just three months.
What is your focus for Spontivly going forward?
Anthony: When Raj and I first released our platform, we were really focused on the customer side of things, but we soon saw that many grassroots organizations that are putting workshops and events together really need help. People who are organizing these community events are severely undermanned with an administrative burden to what they're doing, and this is where the bottleneck is occuring.
So, during COVID, we've been refining our product on the mobile side, but we've also been heavily working on the website so that we can fully launch a pilot project in the next coming months with multiple organizations that are non-profit, postsecondary institutions. This will allow us to better construct this network of building a star community; think of Hootsuite, but for events.
You mentioned post secondary institutions, and this includes many of the partnerships you have formed, from the University of Alberta, to the university of McEwan. Why are these types of collaboration so vital for Spontivly, and do you have any other partnerships in the pipeline which you can disclose?
Anthony: The only way this works, is with partners. You take a university as an example; as a first year student there's so much going on, and it's easy to get completely bombarded with so many activities, become completely overwhelmed by everything that's going on, and ultimately miss out on quite a lot. Yet, those first four years are really crucial for building your network, and building your professional career. So, there needs to be a way to facilitate that experience in a way that's easier to digest for students and I think universities understand that this is essential in building a strong foundation. On our side, it allows us to engage with students so that we can establish a better tomorrow for the world's future leaders, and it also helps us improve our app as a whole to offer greater convenience to the market.
We've got about seven partnerships in the pipeline, most of which are non-profit organizations. The biggest one that we are currently working on is with the YMCA.
What was the transition like going from corporate to start-up?
Anthony: I come from a tech background. I used to work at IBM for a number of years, and a bunch of other big box companies, where I realized that data was the next big resource for people. Big organizations may have access to large data storages, but they don't necessarily know how to interpret it to better conduct their business. My experience was definitely useful in this transition and trying to steer the ship, but no matter how much experience you have previously in your career, start-up is a completely different animal, and I think Raj can attest to this. It's like a roller coaster ride; some days are fantastic, other days are brutal.
Raj: Coming into this, we definitely did not fully understand what the burden of it all would be. I studied urban planning, and I've only ever worked in government. Naturally you're a risk averse person, when you come from a humble family and you've devoted your entire life to a specific career path for so long. When you decide to divert, your parents don't really understand what you're doing. So, it's definitely a grind, but it's really fun and it can be really rewarding. We want to make something that changes society and that's what keeps us going.
Was it difficult to win over the support of your parents and/or loved ones?
Anthony: We both come from really well paying jobs, and I'm fortunate that my wife was really supportive. Raj's parents were also very supportive and so we've been very fortunate in that respect because a support system is key. Even though a lot of the people in our circle didn't necessarily understand what we were doing, or why we were doing it, they saw that it made us happy. I think even when people don't accept it, you eventually come to terms with what your goal is, and just go about achieving it.
What's your message for aspiring entrepreneurs, specifically in the Tamil community?
Anthony: There's not enough Tamil entrepreneurs, especially Sri Lankan Tamils. I don't know if it's a risk averse mindset, or a lack of support, but the biggest message I want to convey is: if you have an idea, just go out and do it. It doesn't matter if you fail, because the lessons that you learn from trying to execute on that idea far surpass any success, as you can take those lessons and apply them to everything else that you do in life.
A lot of people just look at it from a monetary perspective. They want to start a business to make money out of it, and rightfully so, but at the end of the day, compensation is a very short lived incentive. If you shift your mindframe to focus on solving a problem, and make passion and obsession your main drivers, you'll have a much higher success rate.
Raj: I think life is just too short to belittle any idea that you have in your head. Just go out and execute it because experience really does outweigh everything else immensely. The amount that you learn going through a start-up, or anything that you want to do, is insane. Once you go for it, you're on a high, and you won't go back to your regular day job that you've been at.
What has been the top highlight for Spontivly since its launch?
Anthony: Man, we're really bad at this. We don't really put much thought into it, as I think we both personalities where we're never really satisfied. Even if this becomes an IPO, sure we'll celebrate but then it's like what's next? If I had to pick one thing, I'd say it was forming a team, going through the ups and downs of a start-up, and then getting a valuation for this company. That was a big deal for me. The other accomplishment was definitely meeting this guy because I wouldn't have been able to do it without him.
Raj: I appreciate that. I think the biggest milestone for me personally was putting out the product itself. Simply because we spent so much time working on it and trying to get the right people to see it. We're not software engineers or anything, we just had the vision and the know-how to sell it. The hardest part was putting the product on the market but that's also been the most rewarding. People reaching out on social media and telling us about how it has helped them has also been incredible. There's a student from the Philippines that was new here in Canada, and used our app to attend a meetup. He met like 25 people, and one of them became his really good friend - and he credited the app for that. Stories like that help us keep on pushing in this journey.
Lastly, who's better: the Leafs or the Habs?
Anthony: The Habs, hands-down.
Raj: What are you talking about? Sundin, Kaberle, the leafs were a dynasty at that time -
Anthony: They won nothing.
Looking to create your love story? Join the other couples who have dated and got married through myTamilDate.com!
"How a Message on myTamilDate.com Led to an Engagement for Lavanya & Vitharan"