Swiss-Tamil Music Artist Priya Ragu Is On A Meteoric Rise To Global Fame
"Don't limit yourself. Growing up, you always see these superstars talking about believing in yourself. Self-belief is such a powerful thing."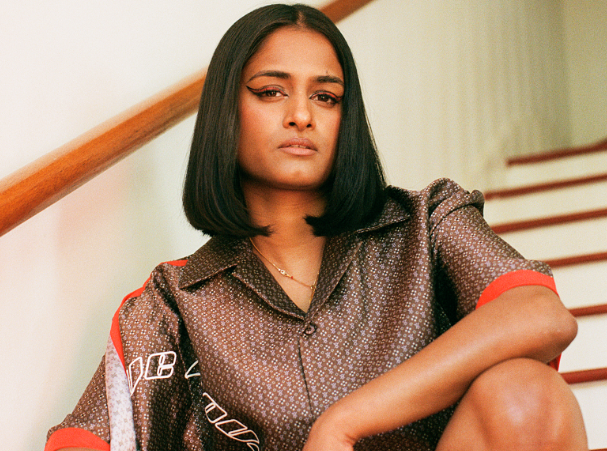 Priya Ragu is a Tamil-Swiss artist making uplifting R&B that explores her independence while remaining true to her Tamil heritage. Her overnight success took years to develop and her career has exploded in the last few years with her being featured in Rolling Stone India, BBC Asian Network and Vogue. Priya is also being named as an artist to keep an eye on in 2021.
Priya used to only perform in front of a small audience back in her home country of Switzerland which isn't exactly considered a hotbed of music activity (at least that spills over into the global music scene). For a long time, she suppressed her talent because of a lack of self-confidence, but eventually her love of music helped her overcome this. She was always half-in with music because of her full-time job working for an airline. Everything changed when she turned 30, quit that job and left for New York to make that "all-in" move on music. Her plan was to write 10 songs and go from there. The rest is history as they say.
___
***Are you or someone you know in the global Tamil community doing great things? We'd love to feature them: FILL OUT THIS FORM ***
Network & collaborate with Tamil Changemakers from around the world. Request to join our private LinkedIn community here.
___
You talked about your parents being super strict when you were younger (typical of immigrant Tamil parents). I know I used to resent my dad about this, but looking back, my perspective has changed. Do you feel the same way?
Even during that time, I kind of understood why they were strict but I wasn't happy about it and at times wishing I had non-Tamil parents who would be more lenient on me. Now I can look back and be like, "Okay, I understand". Although, it may affect other people differently, I felt like my character & resolve were strong enough that I could hande it. They were also very much against me pursuing music at the beginning but eventually realized that they had to let it go. They were like, "Hey, as long as you have a safe job, you can do whatever you want" and that's what I did.
I could have been like, "Whatever. It's my life and I'm going to do whatever I want to" but I also just wanted to have their blessings. So, I just balanced both worlds together as best as I could with my full-time as well as pursuing music.
I sometimes forget how blessed I am to be in Toronto, which seems to be the epicentre of Tamil activity outside of Sri Lanka & India in terms of business and the creative arts. You mentioned that a family trip to Toronto really opened your eyes about Tamil culture. Let's talk about that some more.
When I was growing up there weren't many Tamil families around me, so, I wasn't able to connect with most children around me because it somehow felt like it was a different world. I only had one or two other friends from different backgrounds. My parents wouldn't let me hang out with them.
When I went to Toronto, I had much more family. In Switzerland, I only had a few aunts, but in Scarborough, I had my grandparents as well as other relatives. It felt like home. I was able to speak more Tamil and go to Tamil events like soccer games in Toronto. That was an important phase in my life.
I know historically, the creative arts were often looked down on, in the Tamil community in terms of as a viable career option. Did you experience this or do you see this changing?
We're not in the US or UK where things are a bit more possible when it comes to music. I was constantly bombarded with messaging from everyone around me who were like "Hey, I think it's really difficult in music. Where do you want to go with this?" They viewed music as something that couldn't have a big future in their eyes because my music was in English and in Switzerland, German songs were much more successful than English ones. Also if they want to listen to English music, they would rather listen to musicians from the US or UK rather than music from a Swiss artist.
I only ask as I know your dad had a band (as he loved singing) and you guys would do jam sessions (your brother on the keys). Why do you think your dad (given his love for music) was against you making it a career?
My parents, especially my dad, were like, "Not one child, but two children of mine are into music. What the hell!" They came in the early '80s to Switzerland when they didn't speak the language and created this life for us. Then one day we approached them and were like, "Hey, we both want to be musicians." Essentially I had never really wrote any songs before 2017 so this added to their worry about me pursuing music as a career. One cool thing my dad said to me was that what AR Rahman did with bringing Western elements into Indian music, I was doing the same by bringing Indian elements into Western music.
What inspired your song "Good Love 2.0"?
It was inspired by my parents. When they got together in Jaffna (their hometown), their parents were totally against it. So, they really had to fight for love. When we wrote the song, we wanted to actually shoot the music video in Jaffna but the director who is from Mumbai thought it might be difficult for us to shoot down there given the political climate.

We thought of places that were closest to Jaffna and thought of Goa. I scouted the talent, the stylist, the producer and pretty much everyone else via Instagram. The first time we met was actually in Goa itself. There were about 10 peoplein total and the experience of shooting the music video was one of my favourite memories.
Why did you call it the song Good Love 2.0?
There was actually a "Good Love 1.0" which we had been working on for a long time. We participated at a contest in Switzerland with "Good Love 1.0" and didn't win. They gave us feedback about the song and we knew that we had to work on the song but we didn't know what to do. For more than a year, we put the song on the back burner. Then we decided to work on it again because we knew that there was something there, and the rest is history.
Tell us about your relationship with your brother Japhna Gold (also a musician). Were you guys always close?
My brother, Japhna Gold, produces my songs. He's been doing music for the longest time. My brother was very interested in hip hop at an early age. He started to rap when he was around 14 years old. Soon after, he had his band and he played at concerts as he was very dedicated to music.
He's been a producer for a long time but I avoid working with him initially because I thought it would be wierd and uncool to work with your brother. I also wanted to go down my own path. However, I couldn't find a producer that was a good fit for me. I also decided that it couldn't be a coincidence that my brother was a producer and I'm a singer but we couldn't work together. So I gave it a shot. When I went to New York, I told him we could test things out with 2-3 songs and see how it went before moving forward. It was difficult at the beginning because he had his vision and I had mine. We butted heads quite a bit but I finally decided to let him lead me and follow his vision. Things worked out well once I did that!
What made you finally leave your traditional job to go "all in" on pursuing your music aspirations in New York City?
I turned 30 and I was like, "Okay, this can't be it." I knew that there had to be more to life than just working a normal office job and I had this talent that I wasn't fully working on drawing out. Back then, I was doing music only in the evenings and weekends since I was busy working my 9-to-5 during the day. I was fairly exhausted by the time I felt like being creative. I decided to make the move to go "all-in" because I sensed that I only had a short window to go for it.
I had a friend in New York who was a rapper, Oddisee who I met at a Jazz cafe 10 years and we became friends. He was on tour so he let me have his studio which was perfect timing, so I went. I didn't know anybody in the city except him (and he wasn't in town). I went with my notebook and a singular goal of writing 10 songs before I came back.
Do you think that growing up in Switzerland slowed down your seemingly meteoritic rise? As in do you think you would have been "discovered" or more popular if you grew up in a music hotbed like London?
I feel like it already happened very quickly. I think it would have happened quicker if I was ready, but I wasn't. I had to be internally ready for the next step. It took me a long time to get here but I don't know if that would have been different if I had been raised in New York.
Do you feel like macro trends globally also contributed to your current success? Hard work is definitely part of the success equation, but so is luck. There seems to be more of a push or focus on minority representation in the creative arts - anywhere from the TV screens to musicians.
Of course, definitely. I feel like it was the right timing. If I would have come up with this music 10 years ago, I'm not sure if people would have been ready for it. I think it all came together as it was the right timing for me to release music and merge both of these worlds into whatever I do.
Who is an artist that you would love to collaborate with musically? Are there artists you try to emulate?
M.I.A. Other than that, probably Dhee. That would be cool or Ganavya.
How do you feel about the independent Tamil music scene? Any names we should know about?
It's really beautiful to see Tamil people come up with their own type of music and their own style. Each one of them has their own character. It's really amazing to see everybody rising and blowing up at the same time. I really wish we could do an event where all the Tamil musicians come together and have a festival or something in Jaffna. That would be so sick.
_____________________________
Related Articles:
_____________________________
Are you looking forward to touring?
Oh, yeah. I would love that! I am also looking forward to doing a show in Toronto. I really love Toronto and it will be amazing to come on tour. Things are starting to open up and I'm playing at festivals in Switzerland. Jazz Festival Montreux is one of the biggest festivals in Switzerland. So I'm playing there next month. Wish me luck!
What do you do outside of work for fun?
I love Thai boxing. I'm not good at it but it feels good when I do it as I love kicking butt haha. Other than that, I love to meditate. It's a part of my life. I wake up, meditate 30 minutes every day. I watch a lot of spiritual satsang; Q&As with different spiritual teachers. I'm really into that.
I have always been a spiritual person but I feel like recently when I started doing music, it was everything at the same time. I was working on myself, reading, listening to podcasts and writing songs all at the same time. So it came all together; the music and the spirituality.
What insecurity do you have?
Interviews. I don't always feel comfortable giving interviews. There are days when I feel like, "Wow, I had a lot to say today." There are other days where I feel like, "Man, I feel like I'm repeating myself all the time."
I once did a TED Talk in 2019. We had a rehearsal a day before but with no audience. I had to do a speech and in the middle of the speech, I had a blackout. I was like, "Wait a second." It was just very awkward. I was telling the coach, "Maybe we should skip the talking." The coach was like, "Hey, you can do it. Just give yourself time." I gave myself time and it didn't come. But the next day, I was on that stage and it was just so different with an audience because they were giving me energy. It was really like having a conversation with the audience, so they made me more comfortable.
What do you think you would tell your 16 year-old self?
I would tell her, "Be patient because everything will make sense at the end, and you will be proud of me."
In terms of your personal legacy, in a few sentences, describe how you want to be remembered by your family and friends?
I want to be remembered as a good person. Someone who's a giver; someone who helped the community. I want to do a lot of community work, but I still have to figure out in which direction I want to go and how I can combine it with music. I feel like music is God's gift and we have to give back.
Who is one person from the global Tamil community and one person that isn't Tamil that you admire and why?
The person I admire who isn't Tamil is Snoh Aalegra. She's a solo singer from Sweden and I just love her music and her whole vibe. She made it really big in the last two years. I love everything about her especially the way she carries herself and does interviews. I would love to be her.
In the Tamil community, I really admire M.I.A. I just feel like everything she has done for the Tamil community is admirable. Not everybody can be so outspoken and fearless like she is, especially during the time she did that as you could really put your career at jeopardy.
What's a piece of advice that you would give to your fellow Tamil creators out there?
Just do it. Whatever it is, don't overthink and just create without questioning or without doubting yourself. Don't limit yourself. Growing up, you always see these superstars talking about believing in yourself. Self-belief is such a powerful thing.
What does Tamil culture mean to you?
Tamil culture is a huge part of me; of who I am, and I feel like it has to be represented through my music and through my art and whatever I do.
**Looking to create your love story? Join the other couples who have dated and got married through myTamilDate.com!***
"myTamilDate Love Story: Jenani & Nav Found Each Other At The Right Time And Right Place In Life"
"myTamilDate.com Love Story: Tharshi & Ravi Found Love During Lockdown"
"myTamilDate.com Love Story: Suji & Sinthu Lived 15 Minutes Apart For Years And Never Met Until Joining MTD"
"How France Met Canada: A MyTamilDate.com Love Story"
***CLICK HERE to listen to us on Spotify!***
Related Articles: