Register For 'Tamil Innovators Spotlight' With WealthKernel's CEO Karan Shanmugarajah
Register for our next 'Tamil Innovators Spotlight' in partnership with Startup Dojo. Our featured innovator is Karan Shanmugarajah, CEO of WealthKernel, an innovative UK based company that tackles the hardest challenges in wealth management, whether regulatory or technological.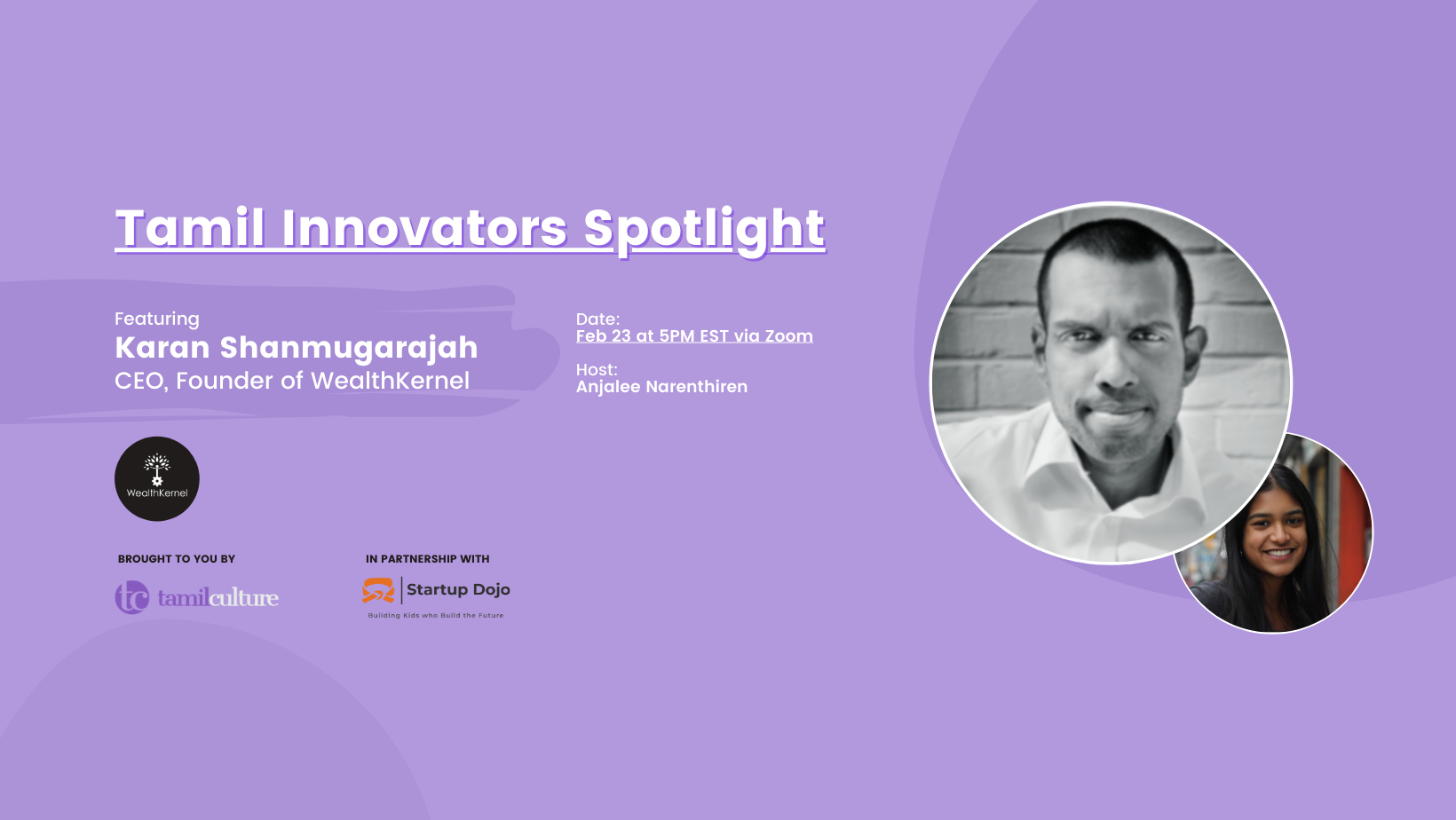 Our
Tamil Innovators Spotlight
is an online series which puts the spotlight on individuals from the global Tamil community who are building great products, services and initiatives. Our latest event is brought to you in partnership with
Startup Dojo.
About the featured speaker, Karan Shanmugarajah:
Karan Shanmugarajah is the CEO and co-founder of
WealthKernel
, an API platform that provides infrastructure to savings and investments companies. They leverage the power of design thinking to lead the industry into the digital age. They enable businesses to distribute financial services digitally. Their platform allows their partners to create a quick, cost-effective and reliable process for solutions that deliver regulated advice. WealthKernel combines nearly 150 years of experience across technology, financial services and product design. This experience has been acquired across some of the world's largest and most prestigious financial institutions, technology companies and a major broadcaster.
Karan was a Portfolio Manager at Barclays in London overseeing $500 million in client assets. He was a member of the North American Equity Committee and a voting member of the Selection Committee responsible for multi-asset reference portfolios across the UK and Europe. Karan has also worked in Canada and Singapore. He is currently a director at a London-based charity that promotes entrepreneurship.
About our host Anjalee Narenthiren:
17-year-old entrepreneur, Anjalee Narenthiren, is the founder of Startup Dojo, an entrepreneurial ecosystem for students. She is a sought-after speaker, giving keynote addresses at large conferences like the AI World Forum, and a Google Conference held in Sunnyvale California.
Check out our previously featured Tamil Innovators