myTamilDate is a dating website that aims to help Tamil singles from around the world connect with one another at their own time and pace. Whether you're looking to meet someone special from your city or in a different continent altogether, they help make the connection. The highly anticipated site is expected to launch next month.
With the launch, the team hopes to alleviate concerns that Tamil singles may have about online dating. In a poll about online dating fears conducted by TC, over 400 respondents participated and 41% indicated that their biggest fear is 'I might meet creeps'.
What is your biggest fear about online dating?*
| | | | |
| --- | --- | --- | --- |
| Answer | Votes | Percent | |
| I might meet creeps. | 167 | 41% | |
| People might think I'm desperate. | 79 | 19% | |
| Someone I know may see me online- awkward! | 70 | 17% | |
| No fears, totally okay with online dating. | 60 | 15% | |
| I have some fears but they wouldn't prevent me from online dating. | 31 | 8% | |
With features such as blocking profiles and request to connect functionalities for individuals who are not your matches, myTamilDate plans to give you control of who can and cannot access your profile. Furthermore, they hope to increase their membership mainly through a 'friends of friends' strategy, by tapping into their personal networks and allowing existing members to easily invite their friends to the site, to ensure good quality candidates are signing up. After all, the saying goes 'birds of a feather flock together'!
The site was inspired by a group of Tamil, young professionals. In their words:
"Some of us are single and will be members of myTamilDate, while some of us are in relationships and off the market.  Our common ground? Given the busy lifestyle of Tamil singles, we get how hard it can be to meet that special someone who shares in our values, beliefs and upbringing.  With our full time jobs, family obligations, volunteer work, hobbies, traveling and social outings with friends, finding that special someone using traditional dating methods can be challenging.  And the 'meet this great girl' and 'meet this great guy' setups from family and friends can leave singles feeling pressured and overwhelmed. This shared sentiment amongst us led to the creation of myTamilDate."
Here are the faces & inspiration behind myTamilDate.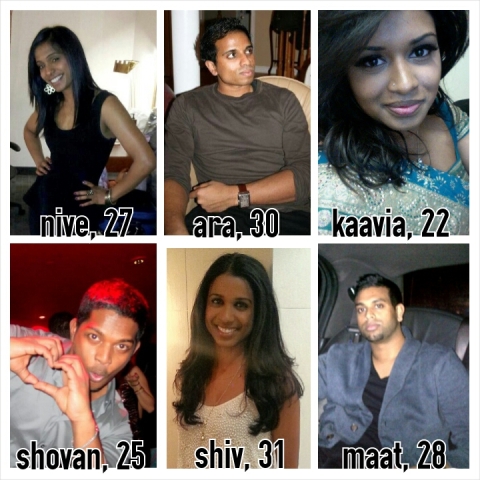 You can register your e-mail at myTamilDate.com now to get notified of when the site goes live. Be sure to share this info with your single, Tamil friends – you just might be the reason behind an epic love story in the making!
_______
*TamilCulture.ca poll results.
Related Posts: