As the Starks of Winterfell say, "winter is coming." Winter is surely coming, along with a new line of winter fashion for men. Let's take a look at how you lovely men can keep warm and still in style this season.
This winter you can stay warm without the bulky jackets and coats! Layers are the way to go when trying to keep toasty and fashionable.
Bold blue is the popular colour of this season; wear a collared blue shirt as the first layer to your look. To add a little pop of print to a solid coloured outfit, wear a checker printed collared shirt, which is a print that is very in style this season, under a solid print and you'll have a brilliant look going for you.
Printed and vintage sweaters are back this season; we will be seeing a lot prints from the 90's that are a great layering piece. You can wear it as is or add a collared shirt as your first layer and you have created a whole new look.
Both over-sized and fitted wool and knit sweaters are another great layering piece because first, they are amazingly warm and second the fabric is different from your usual cotton; the difference in texture gives your outfit some pizazz.
Of course layering your upper body is a very easy thing to do, but how can you keep your lower body warm as well as in style? Well this winter corduroy is back! This type of fabric is very warming and adds very different twist to your outfit.
Neutral colours are always in and they are perfect when you are pairing it with a daring colour and bold prints.
Velvet has been seen all over the run way for this upcoming winter season and along with velvet, we have seen rich colours such as merlot, emerald and indigo. This opulent fabric is amazing when worn as a two-piece suit and if you aren't ready to make the complete leap into a two-piece, you can always complete you layered look by pairing a velvet blazer with your knit, wool or printed sweaters.
Double-breasted coats are a lovely way to keep warm and complete your layered outfit; both solid and checker printed coats have been all over the runway.
Accessories:
Of course you'll need something to carry all your manly possessions in, and we have found the prefect bag for you. A solid coloured oversized workbag is great for carrying all your essentials while adding a little class to your outfit.
Shoes: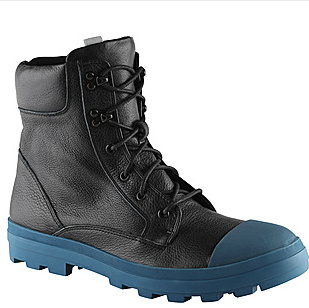 Obviously you need something to wear on your feet before you set out the door and on the runway we have seen rubber, yes rubber everywhere! Here we have a leather and rubber boot that is great for warmth and adds a little something edgy to your look.
- Simrin Dhillon & Chandni Patel