How Does Tamil Cinema Affect Your Dating Life?
This is the 'Before Anyone Else' Podcast featuring Mathusha from 'Dash the Curry' Podcast.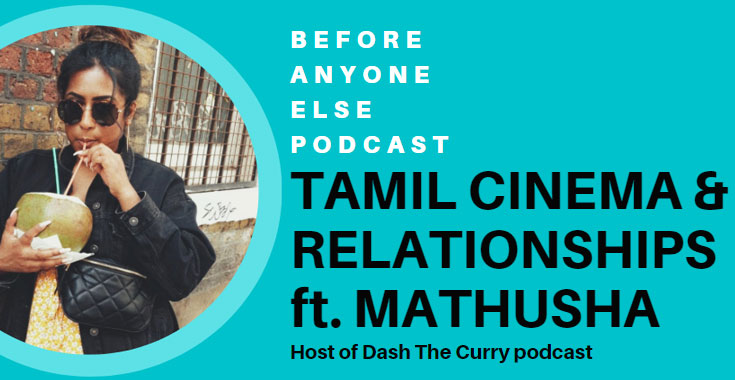 Tamil cinema (Kollywood) is a billion dollar industry originating from Tamil Nadu in India. As we look deeper at this industry we can see the layered influences that affect audiences around the world. The industry can impact and formulate the way individuals in the Tamil community date and treat their relationships, particularly men. The hosts of BAE podcast speak to an insider who worked in the Tamil television industry (host of Dash the Curry Podcast, Mathusha) and ask her to share her perspective on the industry and larger implications on tamil youth.
How are brown women represented in Tamil media?
Exploring how other cultural cinema industries such as Bollywood showcase how traditional elements restrict certain narratives from being shown in larger society.
Behind the scenes in the Tamil television industry – Mathusha shares how toxic masculinity persists onscreen and offscreen
Where do you think the aggression comes from?
How has this influenced older generations of Tamil men and younger generations of Tamil men?
How do these narratives affect modern dating and relationships?
How sex positive is Tamil cinema onscreen?
Takeaways
While we may enjoy watching Tamil cinema and other types of media, we should always be aware of our complicity and how we can challenge these "norms"
Listen Now On:
Our Website

Or on your favorite Podcast platform
Looking to create your love story? Join the other couples who have dated and got married through myTamilDate.com!
"How a Message on myTamilDate.com Led to an Engagement for Lavanya & Vitharan"