Prem Eswarasukumar Pays Homage Through "Freedom 83"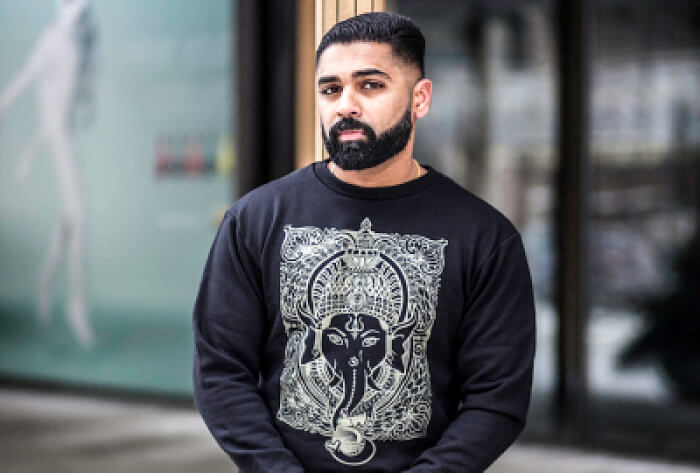 We had the opportunity to sit down with Entrepreneur Prem Eswarasukumar in order to discuss his latest venture with a Tamil connection, "Freedom 83". 
TamilCulture: Tell us a bit about yourself.
PE: My name is Prem Eswarasukumar. I was raised in Downtown Toronto. I have a diploma in Business Management from Humber College, and am currently pursuing towards an Honours Bachelor of Business Administration degree at the University of Guelph Humber. I am passionate about living a healthy lifestyle, which entails a daily gym routine along with healthy eating. My favourite hobby is to travel and this helps with my creativity because along my travels I come across different cultures/religions and fashion pertaining to diverse cultures. I've had the liberty of travelling to numerous countries in South America along as South Asia, Central Asia and Europe. Alongside traveling, my hobby is to read in order to further expand my knowledge and creativity, as reading can take your imagination to insurmountable heights. Being adventurous fuels my curiosity and helps me to seek answers in my life.
TC: Why did you choose the fashion industry?
PE: Fashion is a continual presence in everyday life. It is a form of self-expression and creativity. Furthermore, it gives an identity to an individual because what they wear and their appearance or style forms a representation of themselves. Fashion can take on different roles and expressions. From formal, to street wear,-to mixing the two, thereby creating a new formula of style. Fashion can be seen as a canvas for creativity and the boundaries you set are limitless through your expression of fashion. A phrase scrawled across the chest of a t-shirt can speak volumes to the masses without the individual wearing it speaking a word. Fashion is something I have always been able to connect to and enjoy since my adolescence. I relish being creative in everyday life, so fashion inevitably, was the next move for me. I believe fashion plays a significant role towards self-representation. When you look good you feel good about yourself, thus creating a confident positive aura towards oneself.
TC: How did you start pursuing this endeavor?
PE: In the early stages of the brand I wanted to be able to print and design all the brand's clothing from start to finish. I made sure that I took part in every stage of the process. Initially, I started a custom apparel printing company and ran both companies out of the same office. However, this started to become a conflict of interest for the Freedom 83 brand, because the printing company took off and I had to dedicate more time to the promotional company. Therefore, it was in the best interest of the brand to sell a controlling interest in the promotional company in order to focus more on the clothing brand itself.
TC: What is your role in the business?
PE: My current role with the brand is business development, but it is also hard to put myself under one title. Like the printing process of all the clothing, I still like to oversee every step of process; packaging, marketing, promotions, etc. Because the brand is so new, there is room for errors and improvement, so if it is something we can avoid before an item goes out or a post is posted, I definitely want to avoid it.
TC: What is the significance of the name of your business?
PE: The brand name "Freedom 83" took a long time to come up with. Initially, I just wrote down 10 names and asked my friends and family which one they liked the best. Unofficially, this is the first clothing brand based on Tamil culture, Tamil Eelam, among other aspects, and a brand for the people inspired by the people. This is why I tried to create a brand name that people in our community can connect to and resonate within their minds. The number '83' is a reference to 1983, when the civil war really took a severe turn and the riots claimed the lives of many Tamils. It was during this time that many Tamil families either left to other countries or started to make plans to leave in order to find Freedom from the atrocities that were happening in our motherland. The people who suffered during these times, I like to refer to as the "Bunker Generation" which doesn't need any explanation as to why. But the overall brand initiative is to promote positivity through a creative channel.
TC: What is the key to your company's success?
PE: The key to my company's success would be ambition, drive and motivation. To build your brand and company from the ground up requires an uncatchable love and drive for your craft or work. The dream must be fuelled with passion for what you do. My passion, like I already mentioned, has always been being creative and incorporating that creativity into fashion. This is what drives the core brand's values. Like in any start up you're always faced with difficult problems disguised as opportunities. Your motivation and drive must be fuelled to overcome these problems and create them into opportunities. There is an old saying that I firmly believe in: 'Love what you do, and you'll never have to work a day in your life'. The late-night hours, the long days and the weekends that we put in takes reflection on the dream which is Freedom 83. People seem to think it's the destination not the journey, but I believe it's the other way around. The dream should never stop so there should never be a destination, only the journey. The journey is to expand and elevate my brand and one day have it in the global market. That is the dream, but even then, it still will not be the destination, as I hope other opportunities will arise in the future.
TC: Who supported you when you started out with your business?
PE: Like any business, the early stages are undoubtedly always the most difficult, which makes you question your existence and purpose itself. Self doubt sometimes takes over the determined mind. Often, I would ask myself what am I doing? Should I just go get a job? Is this the right choice? However, during this time I had a huge support system, which consisted of both my family and friends. I am very lucky to have a well-rounded group of friends, which has evolved more into a brotherhood. I also had a huge backing from my family, especially my brothers and cousins who have always supported my interests, whatever they may be. Every design we have come up with has always been filtered through my friends and family, which is part of the huge success and great feedback we get from the brand. I am also extremely grateful to have the assistance of a creative director, (whom will remain nameless) who comes from a very prominent global marketing company and is always available for me whenever I need to share ideas or thoughts involving the brand and assist accordingly.
TC: What is your vision for the future of your business?
PE: The Freedom 83 brand is still in its infancy stage, so there are some developments that need to take place to take the next step into a broader audience. Ultimately the vision for the brand is to establish itself as the first Tamil based clothing brand which can compete with the other big players in it's own category. My dream is for it to being recognized as a global brand and maybe one day go public, essentially creating a footprint in the streetwear fashion industry.
TC: What is your advice for aspiring entrepreneurs with a similar passion?
PE: You get out what you put in. Don't be afraid to make a mark or go above and beyond the normal standards. Create new opportunities for yourself if the ones you seek are not working in your favour. The biggest lesson I've learned pertains to overthinking scenarios that didn't work out, like marketing, a design or missing out on an opportunity. The situation is already over with and there isn't much that can be done to get that one opportunity back or add that extra element into the design, or even ask that one question that could have shaped the whole situation differently. Moving on and simply getting on with the next step is important. Always be positive, because as an entrepreneur 9/10 times it won't go your way. You need to be prepared for the rollercoaster ride. Follow your inner intuition not trends, and most importantly, don't ever lose sight of your vision, your love and your passion.