Entrepreneur Shaminy Waran Created A Luxury Hair Collection Business During The Height Of the Pandemic While Managing The Demands Of Motherhood And A Full-Time Job
"As racialized women, especially as mothers, we are often made to feel that our only focus should be to do what is expected of us by society, by our parents, by our partner, by our community and sadly by our own inner guilt. My "Amma-guilt" (mom guilt) is alive, well and very loud. It had me thinking "how dare I pursue my dreams, when my only responsibility and job now, should be to make sure that my daughters have my undivided attention for the rest of our lives". "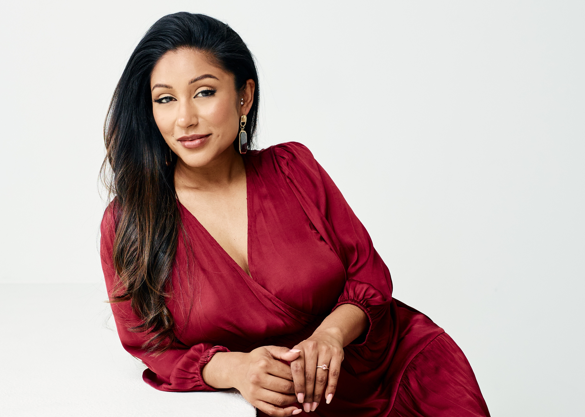 ___
***Are you or someone you know in the global Tamil community doing great things? We'd love to feature them: FILL OUT THIS FORM ***
Network & collaborate with Tamil Changemakers from around the world. Request to join our private LinkedIn community here.
INTERESTED IN MEETING OTHER TAMIL CREATORS, PROFESSIONALS & ENTREPRENEURS FROM AROUND THE WORLD? JOIN THE TAMIL CHANGEMAKERS COMMUNITY HERE & ACCESS OUR MEMBERS ONLY LINKEDIN GROUP, EXCLUSIVE EVENTS & MORE!
___
Tell us about your upbringing and how that may have influenced you eventually becoming an entrepreneur/How did you get into makeup & hair? What was the moment or how did you transition into doing this on a professional level?
My parents immigrated to Montreal where I was born and they were among a small group of Tamil families who relied on each other for support in the 80's. Looking back at their pictures from that time, they did their best to learn and embrace everything about this new place they now called home. They were influenced by the fashion trends of sporting afro's and bell bottoms, and this Western influence is what they relied on to fit into Western culture that continues to influence communities internationally. The families in our newcomer communities were made up young couples, caring for young children knowing little to no English/French; all the while trying to figure their way around this new city and make a life for their families. My parents, elder sister and I eventually moved from Montreal to Toronto when I was a few years old and we settled here. Shortly afterwards my mother gave birth to my twin sisters and a lot of her focus went to caring for them. My older sister took on a nurturing role trying, in order to help my mother out because we had no family to lean on for support. This reality positioned me as the middle child. I have to say that I quickly developed the stereotypical characteristics of a middle child soon after my sisters were born. These behaviours included trying to fit in, being competitive, trying to stand out, being very independent and focused on building friendships outside of my immediate friends and family circle as I got older. I spent a lot of my time alone in my room when I wasn't playing with my elder sister. This involved a lot of drawing/sketching and letting my imagination wander. I was a quiet kid all throughout elementary school, however, as I got older you could catch me in the kitchen pretending to have my own cooking show, attempting recipes and tormenting my family by using them as taste testers. I later moved on to wanting to stitch clothes and that had me busy for a while. I eventually connected my artistic side to makeup and hair mostly because I was surrounded by women who naturally would come to me as their go to makeup artist. I didn't think I would find a job honing in on my love for art all the while, allowing for a career that would pay well and be accepted by my parents. So, naturally I did what most of us at that age did in the early 2000's, I focused on getting a job in a field that was well respected. I studied biology and went into the health sector launching my career in the mental health field. It wasn't until I was pregnant with my eldest daughter, that the reality of being off for a year hit me. The weight of motherhood and financial costs of maternity leave lead me down a path to pursue a career as a make-up artist. The job was both source of making money and finding joy through a transformative period in my life. Motherhood and MUAH artistry are blessings I am eternally grateful for.
I got my first client when my daughter was 2 months old. At that time my husband worked out in Alberta and I was eager to make this business work. So on the days I didn't have help for childcare, I would take her to appointments or she would be in her bouncer next to me at home watching me while I got my clients ready. I often think back to how calm she was as she would watch me with a smile and allowed to work my magic. My daughters are my biggest cheerleaders and they keep me going on my hardest days. This is where my entrepreneurial journey began and eventually lead me down a path of launching a luxury hair line,that would change the lives of so many women I have had the honour of working with.
How did the idea come to launch the Sham Waran Luxury Hair Collection?
I had the opportunity to work with many women of all ages while doing hair and makeup, and a large segment of these women struggled with hair loss to varying degrees. They either had hair loss due to genetics, alopecia, post-partum, stress, cancer, PCOS, menopause or medication; to name a few causes. The more I spoke to them, I realized there was a heavy sadness that was compounded by a lack of awareness about the supports available to them. Often times I would try to support them by: helping to connect them to naturopaths; find hair pieces; send them informational resources to help them better understand what is going on – all with the hope of providing them with relief in knowing they are not alone and to alleviate some of their concerns. It was at this point that I knew we needed a platform to talk about our hair journeys and build a community where we can lean on each other for support. Hair is a part of our identity and when we start to lose it, we lose a part of who we once were. At least this is what I constantly kept hearing from the women I have worked with. I eventually launched an Instagram page called Hairtales on Instagram (@hairtales_) with a group of women, and we facilitated conversations for women, men and professionals from the Tamil community to come together having discussions about hair. We spoke about the struggles of hair texture, hair growth and politics of hair. We explored conversations around trauma +hair, natural remedies for hair health, hair in the LGBTQ community and much more. The discussions were so eye-opening and gave a space for followers dealing with similar stories to feel connected and hopefully walk away with resources for themselves or loved ones or at least the reassurance that they are not alone in this journey.
In tandem with the educational component and need to for knowledge production on the subject, the lived reality of hair loss was another issue I wanted to tackle. Reflecting on my career as a makeup artist, I have come across brides who needed wigs, hair toppers or other hair accessories for their wedding day and other clients who needed accessories for daily wear. I played a role in helping to get pieces for them at affordable prices compared to what was being sold in stores here. During one of my discussions on Hairtales, I kept hearing that so many women wished there were alternative and diverse hair pieces that would support them with their specific hair care needs. It hit me then that I should be offering hair toppers and creating unique hair pieces at affordable prices to fit the diverse needs. This truth set me on a trajectory to break the stigma of hair enhancers and normalize them as something used by all people; not just those suffering with extreme hair loss. So, I spent over a year researching and testing out hair toppers from various suppliers and launched my brand Sham Waran Luxury Hair Collection on January 1, 2020. Since then, we have grown into a brand offering multiple hair enhancers and hair solutions for women of all hair types.
How did you go about sourcing your products? What made you decide to get 10a grade (100% human hair)?
A friend of mine who was looking into sourcing products through various vendors around the world for a business venture she was planning, sat me down and gave me some insight on how to access suppliers around the world. I knew that before reaching out to any supplier I needed to do extensive research on hair and what Remy human hair meant compared to virgin hair or synthetic hair.
As a makeup artist I have worked with many hair extensions of varying quality and it was extremely important that my hair line would offer top quality hair to my customers. It was also very important that I would be able to offer amazing quality hair to women at reasonable prices and so it took me a year of ordering, testing and trying the products on myself from various suppliers until I was able to narrow it down to a few of the ones I was confident moving forward with based on quality and price point.
What made you decide to have a physical studio in addition to selling products virtually or online? Why does the process always involve a consultation versus just selling your products online?
When I initially launched my business, I debuted hair toppers, which was a product that was not being offered by Canadian companies or any other well-known hair extension business in the South Asian community. This meant that I had to spread awareness about the benefits of hair toppers, and build an understanding of how it worked. By sharing all of its benefits, I needed to ensure my customers visit my studio and try them on, so we could personalize the experience through offering free in-person consults as well as virtual consults. Originally people thought these pieces were only meant for women struggling with extreme hair loss. I needed to debunk that myth and so I began doing videos and posting them on my Instagram page showcasing how I use them in my daily use. The challenge that I faced was that I had launched during the onset of the pandemic and during the lock down, so you can imagine that posed its own challenges. This meant that I was unable to get models to come into the studio, which meant I had to rely on myself, family and friends to showcase how transformational these pieces were for people worldwide. Creativity, flexibility and swift thinking were pivotal in order to ensure that I gave my passion a fighting chance in unpredictable times.
Once the studio opened to customers the business took off in a way I was not prepared. To this day my biggest sales for toppers occur through in studio consults. It's almost transformative each time when my customer tries it and sees the magic of these pieces. During our consult customers get to try out any of our products and I spend the time to answer all of their questions while teaching them how to put it on themselves. We especially welcome customers with curly hair or coloured hair to come in for an in-person consult or at least a virtual consult, because it allows me to match the product with their curl type or hair colour. Customer service is of the utmost importance to me and offering these free consults is the cornerstone of our work at Sham Waran Luxury Hair Collections.
Is this business something that you run full-time? Did you ever have to transition from another full-time job while running this business part-time until you could transition over full-time?
When I launched the business I was working a full-time job and a part-time job on the weekends. I was a makeup artist on the weekends working early morning hours, I supported my daughters with their on-line schooling; while maintain all of the responsibilities of being a mother and a wife. Last year I had to make some major life shifts to alleviate my extreme workload and relieve stress. In the interest of my mental health, I gave up my one job and decided to continue my full-time job in the mental health sector. I also decided to send my kids back to in-person learning despite all the worries of returning to in-class learning with COVID still present. I can honestly say, that the biggest investment I made for my business and for my mental health was hiring on my assistant! (hands down!) I also hired a marketing company for a little over a year who helped manage my social media presence. All of these supports helped to alleviate the pressures I put on myself, wearing all of the hats I do and created an environment that allowed me to focus on what I enjoyed the most! I got to focus on connecting with my customers and creating content that was impactful. As well it allowed me to continue building with my supplier to create products that my clients need. It gives me great pride to share that our team has grown to two staff members today. We have one staff member committed to answering all incoming inquiries and order requests, and another staff member focused on coordinating our rental program which is a service that is in high demand. As a mother of two school-going daughters and working full-time, I am only available part-time; but I can unequivocally say that my business is able to run full-time because I have a staff team available during regular business hours Monday-Friday to address customer concerns, follow-up on requests, booking consults in the evenings, prepping hair products and taking care of the rental program.
Eventually, my goal is definitely to one day transition to full-time and as always I'm allowing my journey and my inner knowing to lead me down this path as my journey unfolds.
_____________________________
Related Articles:
_____________________________
As your business grew and you needed to hire a team, how did you go about finding the right people?
The two amazing women who work with me, are women I love, trust and are a critical part of the SWLHC family. One of them originally overlooked my portfolio when I hired the marketing company as she works for that company. We worked so well together and so I offered the assistant position to her. She has been an amazing asset to my company and has been a significant contributor to the growth of the company. She is also the reason for the amazing customer service we offer. Our Hair Rental Coordinator is no other than my very talented elder sister. Initially, I took on the responsibility of running the program, prepping the hair pieces and scheduling customers when the program launched last summer. I knew I needed to find a coordinator as the program demands grew rapidly. When I approached her about the position she agreed and the rest was history. I have been so fortunate and blessed to be connected to trustworthy, hardworking women within my inner circle who are just as passionate about the brand as I am. My dream is for our team to continue to grow, as a united community that holds space for one another; allowing learning and growth always. When you are a small business, trust and investment in the people who support you, is pivotal. It means everything. So I take my time working with and building a relationship with the people I choose to bring into the company; as we expand and grow together. The SWLHC family is a community, and the way staff are treated translates into how our customers are cared for. As I mentioned earlier, customer satisfaction is of the utmost importance, and it's an essential part of our company ecosystem
What does success look like for you with the Sham Waran Luxury Hair Collection in the next 3 years?
I have been working hard on ensuring diversity in representation. Embracing diversity is of the utmost importance, as it translates into ensuring that all hair colours, textures and experiences are represented as best as possible in our advertising. However over the past few years, I have had to focus mainly on offering pieces to the South Asian community in order to be fiscally responsible in managing the sales and stock flow. After two years I have a better sense of which pieces are in higher demand and the demographic that resonates with each of our products. Currently, I am starting the next phase of testing out more products that can draw clientele outside of the South Asian community so we can expand our scope and client demographic. I would be remiss if I didn't mention that although all of our in stock pieces have been mainly catered to South Asian women, we have always offered custom orders for all hair types and colour; which has allowed me to collect feedback on popular colour/shades and diverse textures from other communities. I am hoping that in the next 3-5 years SWLHC will be offering hair pieces to women internationally who haven't seen their needs represented in the hair enhancement industry.
What's been a failure (or "learning lesson") you've experienced during this process of launching your company and what did you learn from it?
When I launched I was new to the e-commerce world and was eager to offer top quality products for reasonable prices and our customers would get to customize what they wanted for each and every piece ordered. We were very transparent about timelines as per information provided by our supplier. We had an influx of orders during the summer of our first year and as you can imagine I was ecstatic about the high demand; and more over our ability to offer such a individualized service. However when it came time for pieces to be handed to the customer, we weren't getting the deliveries on time due to COVID-related shipping setbacks, and supply chain shortage that has affected business internationally throughout the pandemic. Although many of our customers were patient and understood, understandably there was a lot of frustration. In line with our company policy, we honoured our commitment to customer satisfaction and issued refunds to customers who requested them. We then decided to shut down the option for customization and only offer limited lengths, volumes and streamlined the colour options provided. We embarked on our first bulk order purchase, which was a decision I did not take lightly considering we invested so much money on products that hadn't been sold yet. In hindsight, it was one of the best decisions I made for the success of the business. We had the market research and data from sales, which allowed us to make calculated business decisions on how we could streamline our purchasing power. Now we take pre-orders for bulk purchase orders that have been placed, which has been a great asset because now we are able to ensure products are in stock for customers and navigate any supply chain delays with foresight. This is just one of the many lessons I have had to encounter as a small business owner. There are many more that came after, and I continue to learn from the many forks in the road; allowing for reflection, consultation and collective decision making through conversation with staff. My openness to learning is what has nurtured a growth focused culture within the SWLHC family.
What advice would you give your fellow female Tamil entrepreneurs out there?
This question makes me a bit emotional because I think back to moments I felt lost, ambitious, scared and still eager to pursue my passion. I think back to the Shaminy who started this journey many years back, I know that she could have definitely used the advice and knowledge I am able to share today. So, my humble, transparent and brutally honest advise to any Tamil women entrepreneurs, looking to pursue your passion is to follow your heart, and not give up on the joys that fuel the fire burning deep inside of you. Please don't ignore it, and tap into the support systems that can nurture your growth.
As racialized women, especially as mothers, we are often made to feel that our only focus should be to do what is expected of us by society, by our parents, by our partner, by our community and sadly by our own inner guilt. My "Amma-guilt" (mom guilt) is alive, well and very loud. It had me thinking "how dare I pursue my dreams, when my only responsibility and job now, should be to make sure that my daughters have my undivided attention for the rest of our lives". My guilt told me "I need to make sure my partner didn't have to worry about his career growth, because it was my job to care for the family and everything that came with it". The truth was that since I was a little girl I had a fire in me, and I could never ignore my calling. My inner flame burned deep and grew every year. It reminded me to live my life to the fullest and always remember to pursue my passions and continue to think outside of the box. A box we are frequently told to remain within, to satisfy all the expectations and labels imposed on us. As rewarding as marriage and motherhood was. I remember one day, during a very dark time in my life when I was experiencing some post-partum depression, I was curled up in bed not wanting to interact with anyone and for a moment I looked up and saw my two girls sitting in my room playing but looking at me with a deep concern. They missed their mother and I felt like I was failing at the one job I had. The irony of the moment, was that I had extinguished my flame, not realizing that my joy and happiness was at the epicenter of showing up for myself; and simultaneously, feeding my flame is what allows me to show up for the people I love. It is a lesson that will be etched in my mind forever. It is a moment that still replays in my head, as a constant reminder to never stop feeding the joys that keep my inner flame burning; because there are so many challenges and moments in life that will take us down winding paths, and we have to be able to tap into our inner knowing to bring us back to ourselves.
Tell people about your dreams, about what really feeds your inner fire and you will see how much love and support you will get towards pursuing your dreams. Remember that showing up as a mother, partner, daughter or friend becomes obsolete, without being the best you. The sky is the limit!
What role has your family played in the choices that you've made in your life so far?
I have the most supportive family and for that I am blessed. One of my past downfalls have been suppressing my needs and putting others needs before mine. I have learned to ask for help and share my ideas and my passion for life with my biological and chosen family. They have never wavered in their support to make my dreams come true, whatever it may be.
What do you do outside of work for fun?
When work is done and I shut everything out of my mind, work-wise my idea of fun is hanging out with my family and friends. What I may have seen as fun before is definitely far from what I find fun now. It's simple, I love my people and they bring me joy. I also love to watch some feel good movies/shows, travel and be in nature.
What is an insecurity you have?
Anyone judging me negatively has always been an insecurity of mine. However, over time I have been doing the work to unlearn this particular insecurity. I have come to realize that negative judgments from others, usually stem from reflections they have of their lives. This being said, I am always open to constructive feedback that is a space that I have always thrived in, however, navigating this process is on-going.
In terms of your personal legacy, in a few sentences, describe how you want to be remembered by your family and friends?
I want to be remembered as someone who lived her life as evidence that all mothers can pursue their dreams and live the life we deserve to, regardless of our age and the expectations imposed on us be society through the label of motherhood. I want to be remembered as someone who unapologetically loved and lived with no regrets!
What do you think you would tell 16-year Shaminy looking back?
This is such a great question! I would tell 16-year old Shaminy to not take everything so seriously. Everything has its way of sorting itself out, so be patient. Don't rush life, take your time because life won't go according to your plan and that is okay. There will be detours, and these detours will be blessings in disguise. Girl don't you ever give up your love for art, because it gives you so much joy and solace. Don't wait to travel and invest in property early on. Oh and make sure to invest in something called Bitcoin and Tesla when you first hear about it ;)
What is your favourite book(s) you've read recently and why?
To be honest I am more of a podcast girl, mostly because of my lack of downtime. This being said when I do read books I choose rom-com books, that are fun and light hearted. They always have some sort of a happy ending. I have the faintest of hearts, so as much as I would love to read books with a lot of depth and drama I do find them heavy to sit with once I'm done and who has time for that!? Lately, I have really enjoyed reading all of Taylor Jenkins Reid's novels. She has a way of writing in a witty humourous style that I connect easily with. The latest one I read is called, "Maybe in Another Life" and it gives you a good perspective about how the decisions we make in life leads us to a different path from the one we could have had if we decided differently in any given moment.
What is a new belief, behaviour or habit that has most improved your life?
Having routine in life is important. Making sure I sleep on time and wake up early is foundational to my functioning. I enjoy watching the sunrise and getting some alone time to do the things that bring me joy which has helped to start my day off with a positive outlook. Eating food that I enjoy, has also improved my sense of gratification and making healthier choices has stuck around longer than any diet I have tried. Romanticizing the littlest things gives me something to look forward to. I get excited for my moment on my porch with my tea, watching the sunrise or sitting with a glass of wine and watching the sunset. Sleep, mindfulness, and healthy eating have all been life changing for me.
If you were given $1 billion, how would you allocate the money to change the world?
On a grander perspective $1 billion is not much to help change the world. I would invest it in companies that have access to sources of power, whereby we can influence those who hold power to build a more equitable world. I would support projects focused on building schools in global south countries, so that a larger percentage of the world's population would have a chance to break out of social, economic and political inequalities that face them. I would also support projects working on securing clean water to places that don't have it, as well as for free, affordable and quality housing.
How has the Toronto Tamil community impacted you both personally and professionally?
In my early years, my sister and I were the only two Tamil students in our school for the most part of our elementary school years. Therefore, there wasn't much connection to the Tamil community in my early years. Just before high school, our family moved to Malvern where people around us were primarily racialized and many of them were Tamil. I connected to friends who spoke Tamil to each other and embraced our culture and roots. I finally felt like I belonged to a community and was eager to learn more about my culture and language. It is important to me that my girls learn to read, write and speak Tamil and so I have registered them into classes for it. It is important that the next generation continues to embrace the language and culture so we don't lose it. Professionally, all of the work I do I relate it back to Tamil women and making sure I provide support to the community where I can, and it will always be a large part of my focus.
What is your favourite Tamil food (meal or dessert)?
My mother makes a mean katharikaikulambu! I also love mutton curry. As much I do love both I indulge on special occasions only!
What is your favourite Tamil movie?
Alaypayuthey is my all-time favourite movie and Sillunu Oru Kaadhal is a very close second.
What does Tamil culture mean to you?
Tamil culture is a long and rich history that can never be erased and I am proud to be a part of this history.
**Looking to create your love story? Join the other couples who have dated and married through myTamilDate.com!**
"myTamilDate Success Story: It Was Love At First Sight For Madhu & Niya"
"myTamilDate Love Story: Jenani & Nav Found Each Other At The Right Time And Right Place In Life"
"myTamilDate.com Love Story: Tharshi & Ravi Found Love During Lockdown"
"myTamilDate.com Love Story: Suji & Sinthu Lived 15 Minutes Apart For Years And Never Met Until Joining MTD"
"How France Met Canada: A MyTamilDate.com Love Story"
***CLICK HERE to listen to us on Spotify!***
Related Articles:
Separated From Family During Sri Lanka's Civil War, Ganesh Thava Overcomes Childhood Adversities To Find Success As Actor, Writer & Director
Singaporean-Born, Canadian-Raised, Decolonial Racial Equity Educator Channdika Thayver Delivers Powerful TEDx Talk On Racial Equity In The Workplace
"Tamil Innovators Spotlight: Theban Ganesh Discusses Building a Web3 Company, Improving Healthcare Through Blockchain, Successful Exits"
"Elite Athlete, Coach, Future Chiropractor & Entrepreneur Abirami Shanmugaratnam Is Making Waves In The Athletic Performance Industry"
"Toronto's OG Food Writer Suresh Doss Is Using His Reach And Voice To Help Engineer A Comeback For Beleaguered Restaurant Industry"
"Ballet And Kung Fu Trained Australian Actress & Writer Rubi Balasingam Is Promoting Tamil Voices In Aussie TV And Film"
"Yathusha Kulenthiran's Marketplace For Environmentally Sustainable Palmyra Products Empowers Female Artisans In Sri Lanka"
"Australian-Tamil Entrepreneur Sujan Selven Is Creating Economic Opportunities For Remote Villages In Northeast Sri Lanka Using Upcycled Devices & Improved Connectivity"
"Crypto Tinhorn & Former Journalist Anand Venkateswaran Talks About Buying A $69M Digital Art Piece, Collecting Stories & Catalyzing Change"
"Tamil Innovators Spotlight: Abarna Raj, CEO of Australian Social Startup Palmera, Is Tackling World Poverty"
"These Tamil Founders Behind Agritech Startup Dunya Habitats Want To Alleviate Food Security Globally"