Corporate Globetrotter Raj Pragasam's Words Of Wisdom
Raj Pragasam has decades of experience working in a number of countries across the world. His roles include advising startups and being heavily involved with a number of charitable initiatives globally, particularly a few in Sri Lanka.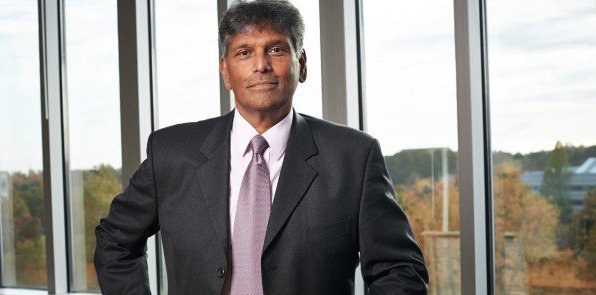 ***Know anybody in the global Tamil community with an interesting story or workin on an interesting initiative that we should feature? => FILL OUT THIS FORM ***
You are originally from the UK but you were at Compass Group North America for over 16 years. You mentioned that every young person should work intentionally, particularly in the United States. Why is that? How did you make that transition?
I was born in Sri Lanka, then moved to the UK during my teenage years for school and eventually landed a job at Compass Group PLC. After working in the UK for 21 years, I had the opportunity to transfer to the North American division as a Senior Executive while being based there. My thought process behind taking this leap of faith was the strong economic performance of the US as well as ample educational and employment opportunities for myself and children. Based on my own experience I would strongly recommend young professionals to seriously consider international sabbaticals or transfers to broaden their horizons. Not only for professional aptitude but to expand your knowledge culturally, socially and politically.
You mentioned that it was difficult for you at times balancing family life with work - what advice would you give younger folks about this? Is this just a rite of passage in your career journey or would you do things differently if you were to do it all over again?
First, you have to get your family on board in terms of what to expect so that they can be better prepared for the transition and the way of life (important considering we were moving continents). Secondly, you had to be willing to adapt to the new culture and its values. My mantra for work-life balance was that my family came first, but this didn't mean I neglected my professional responsibilities. You just have to be better at prioritizing and scheduling your time. There is a temptation as a young person to priortize work over other aspects of your life. But there is a real risk of having regrets including relationship failtures, health issues, etc. Life at the end of the day, is a journey of seasons, so you just have to take things in stride as they happen and enjoy the ride.
You talked about the need to have more diversity in the C-suite and board level - what do you think needs to be done for this to happen?
Instead of diversity, I prefer to call it inclusion. I believe that business organizations could have glass ceilings on senior office appointments by way of history and practice. One way of breaking the barrier is to stand out and work out which is what I did. Fit in but stand out. Once you get in, you can help others up. If you become part of the leadership team, you have an opporutnity to influence their long-term thinking because you're now at the table.
You've had a few Advisor roles (ie. BounceX, Miles, Dynamic Signal, etc.). What exactly does an Advisor do?
My role as an advisor is very much listening and guiding the entrepreneurial spirit in the right direction. I also help them understand the importance of good financial practices in sustaining and growing a business. Finally, I also help flesh out ways to improve the business which include future strategic opportunities.
Do you have any mentors that have helped you in the progression of your career? Do you think everybody needs mentors? How does somebody find a mentor?
My plea to every young person is to have a mentor as having one is vital as you go through life's journey both personally and professionally. A good mentor's role is to help you review your challenges and opportunities from a totally different perspective from yours. I would advise you to choose a mentor from a different age group, gender, profession, industry or even culture/relgion. The purpose of a mentor is to broaden your thinking and understand different points of view which ultimately help you make better and more informed decisions.
You have a number of charitable initiatives that you are working on. Can you tell us about one of them and why it is particularly close to your heart?
I was involved in many charities around the world predominantly in South Africa, Kenya and Ethiopia, until I met a man named Emanuel in South Africa who asked me a simple question "What have you done for your country?". I realized that day that I had no real connection to Sri Lanka. His next question was "What have you done for your community?". This was a question I had struggled for many months which eventually resulted me in creating a charity to drill water wells in Wanni (Sri Lanka). The charity is called "Well-Being Sri Lanka" with the purpose of it being to provide water to families to alleviate poverty and create sustainable livelihoods.
You recently created a board game called "Peccu The Game". Why did you do this?
I recently co-founded a conversational Board Game called Peccu. My reason for creating the game was to enable people from different walks of life to be able to have better and more productive conversations with one another. To actually listen and learn as I feel like that was something I felt was missing in interactions that I saw day-to-day.
---
What do you think you would tell 16-year Raj looking back?
I was more blessed than I thought and because I was blessed, to take what I had and bless others.
If you were given $1 billion, how would you allocate the money to change the world?
I would spend it equally on two of my causes dear to my heart that I feel like would make a signicant difference in people's lives. 1. Create an educational trust to help educate children who have the desire and aptitude for learning, but don't have any financial support. The only way out of poverty and crime is education. 2. Create a trust to help homelessness. I believe everyone has a fundamental right to dignity and respect which ultimately starts with a place to live.
---
You mentioned to me when we talk that your kids have really played a big part in reshaping how you look at things, particularly things that the older generation of Tamils still prioritize like which school you go to or having a house as a status symbol of success. Can you elaborate further?
M children were born in the UK followed a schooling system which I believe instilled in them values of independence and responsibility. These values sometimes clashed with our values that we brought with us from Sri Lanka, but we very much encouraged them to be independent and to be critical thinkers, because we wanted them to be able to stand on their own two feet eventually. I do admit, I still sometimes struggle with my "old school" thinking at times where it be the type of house that my children live in or the type of job that they select, but I'm working on it.
What is your favourite Tamil food (meal or dessert)?
My favorite Tamil food is Pittu.
What is your favourite Tamil movie?
Movie watching is unfortunately not in my DNA and I do believe I might be an exception in my community.
What does Tamil culture mean to you?
Tamil culture is the culture of Tamil people rooted in the arts, religion and language. It dates back to many thousands of years and it is our responsibility to preserve the ancestral traditions and pass it on to our next generations.
---
***Looking to create your love story? Join the other couples who have dated and got married through myTamilDate.com!***
"How a Message on myTamilDate.com Led to an Engagement for Lavanya & Vitharan"
Related Articles:
"These Tamil Entrepreneurs Share How They Grew Their Side Hustles"
"Angel Investor Jay Vasantharajah On Building His Portfolio One Day At A Time"
"Danny Sriskandarajah's Journey From Rural Sri Lanka to CEO of Oxfam Great Britain"
"Coronavirus Took My App From Our Lives"
"This Toronto-Tamil Family Is Living Minimally To Maximize Their Quality of Life"
"17-Year-Old Anjalee Narenthiren is the Founder of Not One, But Two Companies"