My time in Chennai this year was sort of an exact reverse of my work structure over the past few years.
Instead of working mainly in EST, with some freelance and part time work that abided by Indian Standard Time zones, I began working and living an Indian existence, with a bit of Canada on the side. Now, after returning home for a while I have plans to formally operate by a professionally dual existence' living mostly in Canada but working in India, with the help of technology and espresso.
And there aren't many people who can understand this dual time-zone life that I'm after; this existence where your familial roots lie in one place, but the career you're most passionate about has much greater scope for you in a faraway land. It's a difficult position to be in, that requires much sacrifice and ambition, that some may find impossible and others make work. That's why it was such an insightful experience for me to interview Sid Sriram. The young man with the golden vocals shared how he makes all of this work for him in the latest episode of my "1BY2" podcast.
Sid Sriram is one of Tamil cinema's most popular playback singers of the last few years. As a trained Indian classical musician who was raised in California, USA, he began a flourishing independent music career.
And eventually he caught the attention of the one and only A.R. Rahman.
He made his debut in Tamil cinema playback music with the jazzy hit "Adiye" for Mani Ratnam's Kadal and the rest is history. Since then he's churned out hit after hit with music directors Rahman and Anirudh, including "Yennai Matrum Kadhalai", "Mei Nigara" and the powerful ballad from Shankar's I "Ennodu Nee Irundhaal" – for which he won his first ever FilmFare Award for Best Male Playback singer earlier this year.
I got to catch up with the smooth and sweet crooner at 'The Brew Room' during one of his stints in Chennai in July. He was passing through on a small tour that he's on this summer, performing in Singapore, Pondicherry and returning to Toronto this weekend for the ARYA Canada produced concerts on August 13th and 14th.
My conversation with Sid for "1BY2", that is available now on SoundCloud, was a rare and insightful discussion about seizing opportunities that come our way and having the confidence to go after goals that may take us far away from everything we know.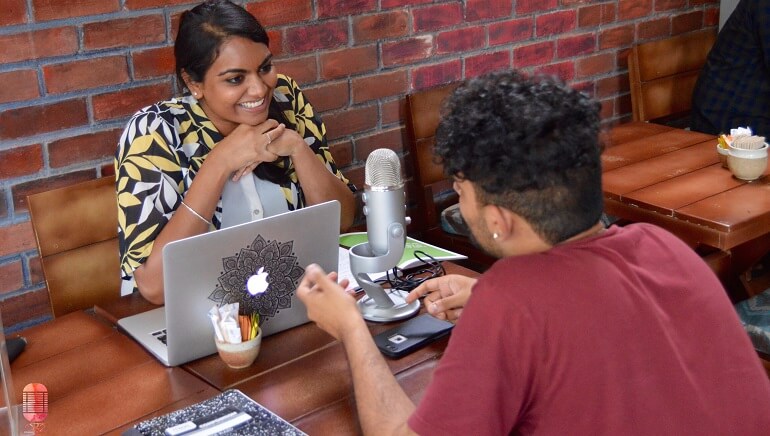 Sid explained how he used to come down to Chennai at least once a year to perform in annual Carnatic concerts, and now finds himself travelling between the US and India every other month; "I can't complain. I'm doing what I love, and it's tiring but it's a good tiring".
The jet setting and practice of constantly creating while travelling around the world is a lifestyle he learnt from his Oscar winning mentor, Isai Puyal A.R. Rahman. "Sir is always working, no matter what the circumstances", he explained to me with sincere adoration in his eyes, "So I look at how my idols do it".
It was particularly interesting to hear about how his upcoming independent album "Insomniac Season", that will be releasing this fall, is actually "meant to resonate with South Asian folks who live outside their mother country".
Sid first released a visual collage and then a video directed and edited by himself for the second single from the album titled "Danger Design". There is even a combined version of the song with a carnatic fusion intro, titled "Prayer I/Danger Design". This video and the song's lyrics  particularly picture the 'duality' that Sid lives through, capturing and blending together scenes of California and Chennai.
https://www.youtube.com/watch?v=9ixBu6ahxBg
I only hope I can soon achieve the same sort of successful international balance Sid seems to have struck up already during his early innings in Indian playback and American independent music.
Sid has been working with several mainstream American artists, like DJ Khalil, on "Insomniac Season" and even used some Canadian talent on the project. We made a point in our interview to discuss our shared love of Tim Hortons, and Drake – one artist that Sid is anxiously awaiting a chance to work with in the future.
"Toronto has been so kind to me, even before any of this film stuff took off".
Sid can be seen performing at the Markham fair grounds this Saturday August 13th.
"1By2" images courtesy of Ram Pandian.