On my second visit to Chennai in January 2015, I went out to lunch with a few of my co-workers at Behindwoods.
I wanted to try the soup starter but I knew I wouldn't be able to finish the large portions I saw being served. One of my teammates said "we'll share" and as the waiter came by he told them "We'll have the sweet corn soup, 1 by 2".
I immediately turned to our group and gave them one of my customary "I don't get it" looks, which they had gotten used to seeing; a look that meant they needed to explain something quintessentially Indian to the foreigner.
"1 By 2 is what we say to ask them to split a portion into 2. It basically means we'll share whatever it is we're getting, so things don't go to waste, or if we want to try each other's food anyways".
It's such a simple tactic, that I instantly fell in love with. Of course it's not as though we couldn't have split the food, or whatever it was that we wanted to, amongst ourselves once it reached us. But the mere idea that sharing is widely accepted and, in fact, encouraged, made me feel warm and fuzzy inside.
In that common "1 by 2" phrase, I heard a synonym for collaboration, and visualized round table gatherings of people having long chats over evenly split pots of tea. And that's the feeling and theme I am going for with my new podcast, that focuses on South Asian artists all around the world. "1 By 2, with @dilani_r", which launched this June, is a series devoted to guests who speak openly about their experiences in the world of desi arts and entertainment.
I've always enjoyed doing interviews for Behindwoods, but I felt the fun interactions of my actual phone or in person interviews with guests could never be fully translated to my word count restricted articles. I love talking, I talk a lot and I have been fortunate enough to have great conversations with all my interviewees over the years, so I had an idea to try something new.
With the encouragement of friends within Indian media who helped refine the idea, and the incredible technical and creative support of our Tribal Arts team (director Manikandan's production company), that idea has turned into a successful reality.
I am so grateful for the overwhelming support from listeners and personalities from within Indian entertainment who have shown love for the series since it's launch a couple of weeks ago. They've told us that this new format is allowing them to hear their favorite celebrities speak candidly.
And they appreciate the opportunity to learn about rising stars who are pursuing lofty goals, perhaps just like themselves. So who are these rising stars? Let me tell you about my wonderful first wave of guests…
I was so happy to launch the series with Pooja Devariya, not just because she is a good friend, but because she embodies the theme of the show; she works in film and theatre, is even an accomplished painter, and she's not afraid to tell it like it is. It was an honor to have her openly chat about her difficult journey to the acclaim she's finally reached now, after her role in director Karthik Subbaraj's latest film "Iraivi". In her episode she admitted how she pretty much had to move to Mumbai just to be offered roles by producers who were seeking non-Tamil girls to play Tamil ones.
Likewise, it was touching to have Vidyu Raman, a talented character artist and the only young female comedian in South Indian films these days, announce her decision not to accept any more Tamil films until they stop making jokes about her physical appearance. It's wonderful to receive feedback from listeners who are amazed at how in depth our conversations can become in just a few minutes, based on my interview style and guests' comfortability; I consider hearing "I never knew that about [so and so]" to be the highest compliment I can receive as a host.
For those who haven't heard the show yet, please note it's not always serious talk! My episode with the vivacious Ritika Singh proved that. In my most mobile episode yet, she and I gabbed about our celebrity crushes while seated in her trailer in between shooting breaks on the set of her second film, and I literally screamed when she told me about meeting heartthrob Rana Daggubati (being the total professional that I am). And in episodes to come in August featuring comedians, singers, models, and even some fashion designers, you'll hear a lot more fun conversations with plenty of heart and laughter.
Till now the Tamil cinema media circle has not had a podcast series, so I'm so happy to be the first. But I look forward to welcoming fans and listeners from outside the film world as well. As the series continues I will speak with more artists of South Asian background, from the worlds of music (singers, musicians, composers), writing (critics, novelists), theatre, dance, fine arts, fashion and photography, in addition to film (directors, actors, technicians, producers). So I hope you'll tune in, in case you haven't already.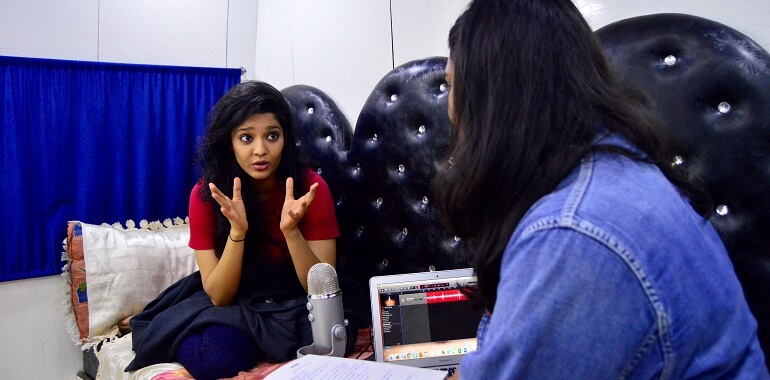 And I'd like to take this space to say a special thank you to: Karthik Keramalu, a brilliant mind and dear friend who came up with the title for the series and has supported the idea from the start; Vinodh Narayan for the logo; Ram Pandian, who did the promo videos, has helped with episode photography and editing, and has generally put up with any request for technical help I've had since I started this thing; and directors Anu Charan and M. Manikandan for all their moral support!
On that note – if there is a guest you think would be a good fit for the series, please feel free to reach out to me on Twitter at Tweets by dilani_r ">@dilani_r or via email at 1by2.dilanir@gmail.com.
Pictures of "1 By 2" courtesy of Ram Pandian.