It's not often a Tamil film gets featured at an international film festival, let alone a reputable one. Kanchivaram opened at the Toronto International Film Festival (TIFF) in 2008, and 3 years later a Tamil feature has made it to TIFF again. In the Contemporary World Cinema category, it's none other than Suseendran's Azhagarsamy's Horse (aka Azhagarsamyin Kudhirai).
Azhagarsamy's Horse (AH) was not a movie I planned on watching. Based on the snippets I read here and there, it had something to do with a lost horse and the quest to find it. It wasn't a movie I was excited about, but slowly the buzz surrounding the film intensified online. Everyone who watched it,  echoed the words "A must see!" and "Intelligent Tamil cinema!" I was skeptical of the words "Intelligent" and "Tamil Cinema" being in the same sentence, (blame it on the *masala movies that dominate the industry) but I thought I'd give AH a chance. I was pleasantly surprised, and minutes after watching it I went on a rampage asking all my friends to check it out.
Contrary to the usual films with a village backdrop in Tamil cinema, where sickles and blood stains dominate the silver screen, AH has a sense of humanity evident throughout its clever screenplay. It's not just the story of a lost horse. It goes beyond that, showcasing everything from life's simple pleasures, to the hardships of village life, and the costs of valuing tradition over individual lives.
"Intelligent" is something you can also say of the humour in this film, which is understated yet thought provoking. A child commenting on God and the devil being the same, the village paati (grandmother) acting deaf to avoid giving money to the festival fund, and the gripping climax in which the horse becomes the "hero" of the film, are just a few examples.
It takes guts to make a movie like AH in Tamil cinema where *masala films take absolute precedence over small budget, "story centric" films. From the cinematography of Theni Eashwar to the editing by Kasi Viswanathan, many aspects of this film are noteworthy. The highlights of the film though, are definitely the story by Bhaskar Sakthi and its screenplay adaptation and direction by Suseendran. Adding to the film's impact are the realistic and memorable performances of the cast, and Ilayaraja's music and background score. The song "Adiye Ivale" beautifully introduces the audience to the story, using traditional instruments such as Nadaswarams and Thavils.
Presenting a unique story line, with a lesser known cast, and a wonderfully crafted screenplay is not done often enough in this industry. Show your support for contemporary Tamil Cinema, and check out Azhagarsamy's Horse at TIFF this year.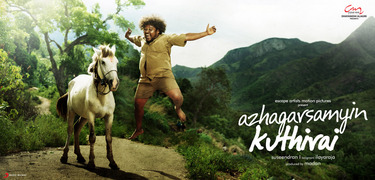 Saturday, September 10, 2011: 6:45pm
Monday, September 12, 2011: 2:15pm
Friday, September 16, 2011: 9:45pm
*Masala films follow a formula that includes hero worship (i.e. one actor carries the entire plot), actresses appearing in glamorous costumes as eye candy, comedy, fight sequences, songs, and themes that revolve around revenge and the triumph of good over evil.
—Parthiban Manoharan