Aziz Ansari made history when he became the first actor of Tamil origin to be nominated for an Emmy for a leading role in a television series. While he didn't win for a leading role, he went onto win for 'Outstanding Writing for a Comedy Series' along with Alan Yang for an episode of Masters of None that discussed the expectations and sacrifices of immigrant parents.
Unfortunately Aziz was abruptly cut-off during the pair's speech, but Alan had the following to say - something that's very relevant to South Asians as well:
"There's 17 million Asian Americans in this country, and 17 million Italian Americans," said Yang. "They have 'The Godfather,' 'Goodfellas,' 'Rocky,' 'Sopranos.' We've got Long Duk Dong. I know we can get there.... Asian parents out there, at least a few of you get your kids cameras instead of violins."
While Aziz may have missed getting in his words during their acceptance speech, he made up for it while introducing an award and tore into Donald Trump and his xenophobia (Aziz's parents are Muslim immigrants from Tamil Nadu).
He joked about who he planned to vote for in the upcoming presidential election. "After careful consideration, I've decided I'm going with Trump — which is also why I'm recommending we get rid of all Muslim and Hispanic nominees from the ceremony immediately," he said.
He took aim at Trump's discrimination against Muslims: "Mom, Dad…you need to be escorted out right now."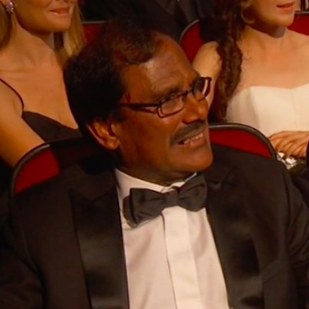 He also poked fun at Trump's rhetoric against Latino Americans. "Nice try changing your name to 'America,'" he said to America Ferrara. "You're not fooling anybody."