An American-Tamil Residing in Qatar, Mohana Rajakumar Exhibits Her Versatile Storytelling Ability As A Standup Comic & Filmmaker
"If you have a story you want to tell, no one else can do it for you. I bring a lot of discipline to writing because I know that women-centric, diverse content is needed in the world and if I can help make that happen, then there's no room to procrastinate."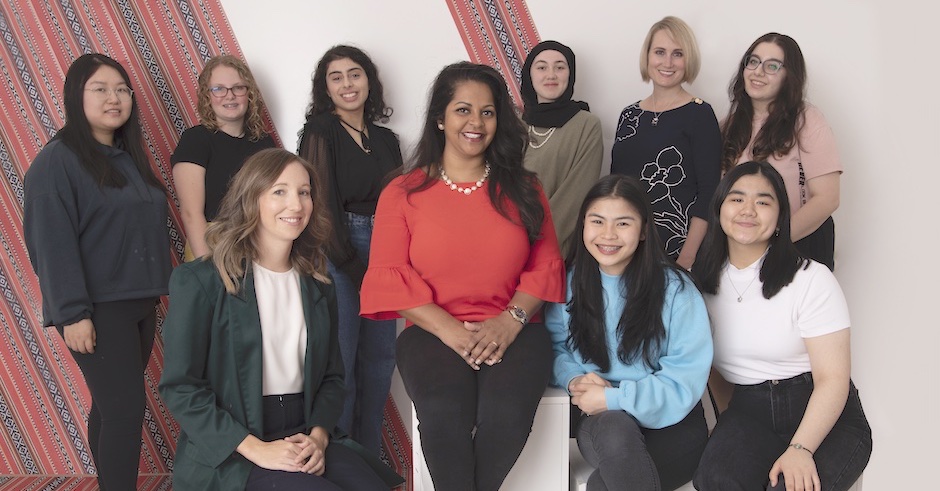 ___
Network & collaborate with Tamil Changemakers from around the world. Request to join our private LinkedIn community here.
INTERESTED IN MEETING OTHER TAMIL CREATORS, PROFESSIONALS & ENTREPRENEURS FROM AROUND THE WORLD? JOIN THE TAMIL CHANGEMAKERS COMMUNITY HERE & ACCESS OUR MEMBERS ONLY LINKEDIN GROUP, EXCLUSIVE EVENTS & MORE!
___
What prompted the move from the US to Qatar in 2005? How did that impact your life and professional career arc?
I came to Qatar to help start an overseas branch of an American university campus because I was excited to have another adventure after growing up a third culture kid in the southern US. Initially I thought I might stay for 2 years and that's now turned into 17.
You have an interesting intersection of skills & life experiences. You're a standup comic with a PhD in English and also more recently a filmmaker. You're essentially a very versatile storyteller who happens to tell stories in different mediums - books, film & comedy. How do you think your childhood or your formative teenage years sparked your interest around storytelling?
My mother took us to the library, whether it was a bookmobile or a brick and mortar location, every weekend. I didn't realize that everyone didn't read until I went to college! After so many years of reading, when I moved overseas, writing became a way to process all the thoughts/feelings/emotions I was experiencing – this time as an expat adult, on my own.
What was the experience like taking your one woman show "Being Brown Is My Superpower" on tour at festivals? What were your life experiences best expressed in this form, rather than say in writing or a film?
The COVID pandemic threw a wrench in the launch of the solo show but I was lucky that festivals like the FringeLiveStream and Montreal Fringe, pivoted to online, and all that hard work paid off. Performing on Zoom was a special challenge because you don't have that live audience reaction to feed off as a performer.
You also have written a number of books in your life. How are you able to produce so much output from a writing perspective? (as people have such a challenge even writing one book)
If you have a story you want to tell, no one else can do it for you. I bring a lot of discipline to writing because I know that women-centric, diverse content is needed in the world and if I can help make that happen, then there's no room to procrastinate.
You created a short called Me Against the World, which is an interracial collegiate rom-com with a female Indian American lead that screened at several international festivals after getting a ton of financial backing on Kickstarter. Now you're bringing your 2nd film idea American Baby, which is a look at the ups/downs of 2 newly arrived Indian expats trying to order a beef free taco, and all the chaos and hilarity that ensues. How are these 2 stories connected?
These two stories are part of a larger feature we are trying to make. They're proofs of concepts that keep expanding the world of the feature, We Against the World. American Baby features the parents of Mala, the main character in Me Against the World, and a vignette when they first arrive in the U.S.
What learning did you take from "Me Against The World" to hopefully help make "American Baby" a success?
If you're a creative person, you must get comfortable talking about what you are making. Because if you don't, no one else will.
What's been a failure (or "learning lesson") you've experienced in the last 3-5 years and what did you learn from it?
Put in the work; the results will come. And have fun along the way.
_____________________________
Related Articles:
_____________________________
Where do you see yourself in the next 3 years?
Finishing my first feature and making another one.
What advice do you have to young people today, especially young Tamil women who want to make a living in the Creative Arts space?
Listen to yourself first and foremost; then find people who are experienced 'experts' in what you want to do. Take the risky chances now while the stakes are low (no family, no dependents) and the rewards will pay off.
What role has your family & friends played in the choices that you've made in your life so far?
This is a big question! I would say surround yourself with people who celebrate taking risks and get what you are trying to do – whether family or friends, zero in on those who will catch your vision.
What do you do outside of work for fun?
We have two kids so they always keep the weeks lively and interesting! Also, now that travel is opening up again, new places and experiences are super invigorating.
What is an insecurity you have?
That no one cares about the things I'm making.
In terms of your personal legacy, in a few sentences, describe how you want to be remembered by your family and friends?
As someone who lifted other people up and said what she said she would do; made interesting things along the way.
What do you think you would tell 16-year Mohana looking back?
Have patience and keep building the network.
What is your favourite book(s) you've read recently and why?
This is also another big question! I loved The Kite Runner by Khalid Hosseini as it took me to a whole new world I hadn't experienced before, as well as John Grisham's A Time to Kill, because it turned people's perspectives on several complicated issues. A new favorite is Girls Burn Brighter by Shobha Rao because it really captured the dilemma facing Indian village girls.
What is a new belief, behaviour or habit that has most improved your life?
Consistent practice always pays off.
What is something that you've splurged on recently in the last year that you have zero regret about?
The kids really wanted to go skiing after skipping it for two years due to COVID restrictions. We had previously gone with friends so I scrambled to figure out how to do it on our own – and it was totally worth it.
How has the US or Qatar Tamil community impacted you both personally and professionally?
Being from two communities was challenging as a child in the US but as an adult abroad, I can see what a gift it is to be able to choose the parts of your identity. And to be able to pass it along to my children, who are now also third culture kids, is such a wonderful feeling.
What is your favourite Tamil food (meal or dessert)?
Oh, there are so many! Nothing like a crisp poori or dosa or vada… mysurpa is my weakness!
What is your favourite Tamil movie?
Ah it doesn't get better than Minsara Kanavu (1997) for me! That summer we must have seen it 3-5 times in the theater and the music videos on the top of the charts shows every night. And of course, any Rajinikanth film brings a smile to my face, even to this day.
What does Tamil culture mean to you?
Being family oriented, disciplined in your practice, kind to those who are in need, and wearing loud prints in any color!!
**Looking to create your love story? Join the other couples who have dated and got married through myTamilDate.com!***
"myTamilDate Success: A Gentle Push Towards Online Dating By Family Brought Céline & Santhous Together"
"myTamilDate Success: The Second Time's the Charm for Aranie & Saaron"
"myTamilDate Success Story: It Was Love At First Sight For Madhu & Niya"
"myTamilDate Love Story: Jenani & Nav Found Each Other At The Right Time And Right Place In Life"
"myTamilDate.com Love Story: Tharshi & Ravi Found Love During Lockdown"
"myTamilDate.com Love Story: Suji & Sinthu Lived 15 Minutes Apart For Years And Never Met Until Joining MTD"
"How France Met Canada: A MyTamilDate.com Love Story"
***CLICK HERE to listen to us on Spotify!***
Related Articles:
"Separated From Family During Sri Lanka's Civil War, Ganesh Thava Overcomes Childhood Adversities To Find Success As Actor, Writer & Director"
"Singaporean-Born, Canadian-Raised, Decolonial Racial Equity Educator Channdika Thayver Delivers Powerful TEDx Talk On Racial Equity In The Workplace"
"Tamil Innovators Spotlight: Theban Ganesh Discusses Building a Web3 Company, Improving Healthcare Through Blockchain, Successful Exits"
"Elite Athlete, Coach, Future Chiropractor & Entrepreneur Abirami Shanmugaratnam Is Making Waves In The Athletic Performance Industry"
"Toronto's OG Food Writer Suresh Doss Is Using His Reach And Voice To Help Engineer A Comeback For Beleaguered Restaurant Industry"
"Ballet And Kung Fu Trained Australian Actress & Writer Rubi Balasingam Is Promoting Tamil Voices In Aussie TV And Film"
"Yathusha Kulenthiran's Marketplace For Environmentally Sustainable Palmyra Products Empowers Female Artisans In Sri Lanka"
"Australian-Tamil Entrepreneur Sujan Selven Is Creating Economic Opportunities For Remote Villages In Northeast Sri Lanka Using Upcycled Devices & Improved Connectivity"
"Crypto Tinhorn & Former Journalist Anand Venkateswaran Talks About Buying A $69M Digital Art Piece, Collecting Stories & Catalyzing Change"
"Tamil Innovators Spotlight: Abarna Raj, CEO of Australian Social Startup Palmera, Is Tackling World Poverty"
"These Tamil Founders Behind Agritech Startup Dunya Habitats Want To Alleviate Food Security Globally"