Director Ameer's 'Aadhi Bhagavan', starring 'Jayam' Ravi and Neetu Chandra and being hailed a 'mafioso action love story', is all set to be released November 2012.
Whether it receives international acclaim or not, it is already making its mark around the world. The film was shot in Hyderabad, Bangkok, Goa, Mumbai and Jaipur and recently had its audio release at the Powerade Centre in Brampton, Ontario in Canada on October 6th. This was the first Tamil film to have an audio launch in Canada - hopefully the first of many!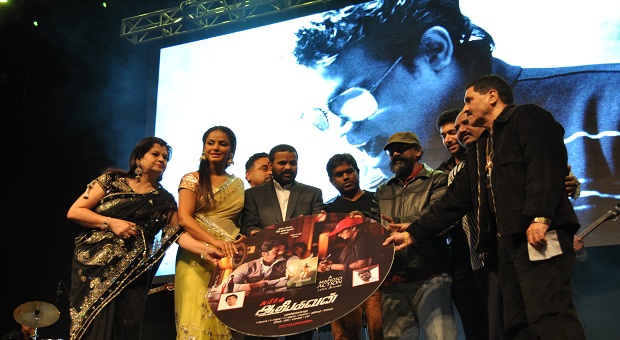 The event featured dance performances by local talent and live renderings of the songs from the much anticipated film. The film's soundtrack is comprised of six songs and features the vocals of Udit Narayanan, Shreya Ghoshal, Shweta Pandi amongst other renowned artists. Click here  for a full recap of the songs from the film.
One of the catchiest tracks from the film is undoubtedly "Bhagavan Rap Song" which just so happens to be a collaboration between the film's music director, Yuvan Shankar Raja, and Rajeev Seelan, alias 'ThaProphecy', a young Tamil rapper from Toronto. http://www.youtube.com/watch?v=d_NUTsOmOc8&feature=plcp
In all about fifty of the cast and crew were in town, including Yuvan, 'Jayam' Ravi, Neetu and producers Anbazhagan and Mahesh.
After wrapping up in Canada, the cast then took off to Chennai to release the trailer at another elaborate event in Chennai.
http://www.youtube.com/watch?v=RSfOXnNsPDw&feature=youtu.be
-Images courtesy of Kumar Gopal.