Nothing Can Extinguish the Flame of the Human Spirit
One cold winter's day in Johannesburg, South Africa, everything in Sivagami 'Samantha' Naik's world changed. She was thrown into a world she could never have before imagined. She faced battles that no one could ever be prepared for including multiple reconstructive surgeries and bi-weekly therapies. Over the past two and half years she's been preparing herself to face the world again. This is HER story spoken in her own words. It gives us a glimpse into the strength of the human spirit and how survival is the only option available.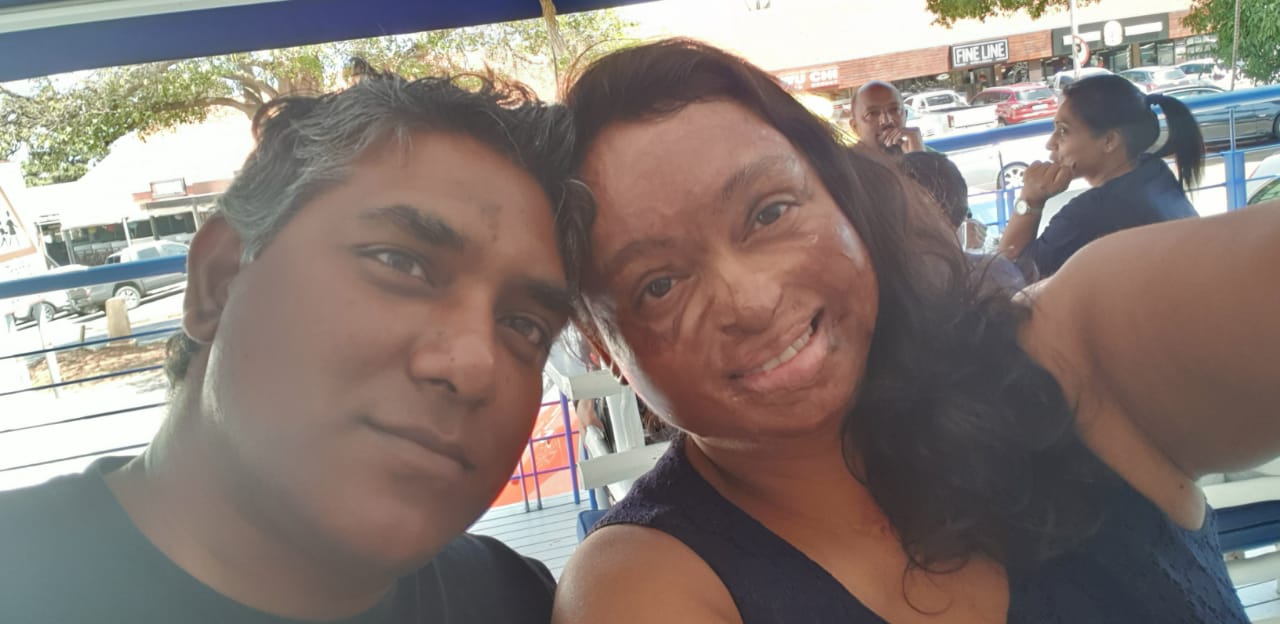 The dreaded C-word has quite literally thrown us into a deep sea of fear and the unknown. No one could have predicted the intense impact that a pandemic could have on our lives. To be honest, most of us did not even understand what a pandemic could possibly be. As a Tamil South African who is a devotee of Mother Shakti, I am familiar with stories of her healing energy and the ancient tales about how she helped her ardent devotees during times when diseases spread through history – we do annual offerings during the month of Aadi with fermented porridge and we have this tradition of a manja (turmeric paste) and neem leaves used to ease chicken pox or measles and a whole heap of social distancing traditions.
Now, we are living in this very moment where the ground beneath our feet is shaking and we are trying hard to filter the fake news from the religious fundamentalism of end of days and follow protocols to keep safe. We watch the number of fatalities rise across the globe daily with dread.
South Africa is already a vulnerable nation due to the number of its citizens with compromised immune systems. Will we be the next Italy? What about the absolute catastrophe blooming in the US? When the first cases hit our shores, President Cyril Ramaphosa made a very difficult decision to declare a lockdown. With our history of apartheid, a national disaster and state of emergency is a big deal. The last time a state of emergency was called, it was during the heightened days of apartheid violence. I was a young child growing up in Durban at the time and totally unaware. I can only imagine the fear that the children of this generation are feeling right about now. They are learning about things well beyond what their minds can conceptualise, when all they want to do is to go outside and play.
A story I wrote before Covid-19 has been sitting and waiting patiently for its readers but I think there's no time like the present to share a tale of human triumph. There is no better inspiration than to read or, in this case, hear how someone really brave faced the unknown and fought battles no one can conceptualise to come out stronger and fearless. I think a lot of people can learn from the lessons of survival from Samantha's story; now moreso than ever.
In summary, Samantha Naik experienced a tragedy totally unrelated to Covid-19, but in terms of human spirit and its ability to transcend through trauma is very relative. Her story is shared in the accompanying podcast. Samantha's story will certainly give you the inspiration you need to get through these trying times.
Beware: there is a warning about the combination of alcohol sanitizers and the use of gas stoves as there was a post shared on social media relating to severe burns.
Samantha in hospital
When I met Samantha after her accident, she smiled so bright and despite her own battles she never gave up her spirit of sharing. She donated a violin to a music project I am running and at that point I realised that she is one powerful individual that perhaps even she was unaware of. For this reason I have practically nagged to sit down and have her share her incredible story.
The Engagement
Samantha, being an architect, is re-reading The Fountainhead by Ayn Rand and here are some of her favourite quotes:
"You have been the one encounter in my life that can never be repeated"
― Ayn Rand, The Fountainhead
"I don't wish to be the symbol of anything. I'm only myself."
― Ayn Rand, The Fountainhead
Samantha is a member of #HeroBurn which supports burn survivors from every facet including hospital stays and recovery, as well as research and support.