Ask any Indian South African about Devi Sankaree Govender and they will tell you about her straight-forward attitude when she worked on national radio station, Lotus FM, based in Durban. 24 years later, she uses that same straight-forwardness to expose corruption, informs the public about critical issues facing the country and reminds us that the voices of ordinary South Africans matter.  She is assertive with great on-screen presence.
The reason I wanted to feature Mrs. Govender on TamilCulture is simply because she is a role model to South Africans of South Indian/Tamil heritage. She inspires us to be better versions of ourselves and to always remain authentic. I personally love how she's kept her Durban Indian accent and she still uses those little nuances that are unique to those of us who grew up on the east coast of this amazing country. She assures me that her job is not as glamourous as it sounds but I think she's doing a splendid job and her no-nonsense approach to corruption is refreshing.
Here are a few questions I posed to our very inspiring Mrs. Devi Sankaree Govender – now a household name in South Africa as she graces us with her Sunday exposés on Carte Blanche.
Devi doing what she does best
Nirvani: You're South African of Tamil origin. What does this cultural heritage mean to you personally?
Devi: It is important to know where you come from and know your roots. South Africa is a culturally rich society and all cultures are respected within our constitution. It is great being of Tamil and South Indian origin. My grandfather was a farmer who taught Tamil in the community. As a toddler I was a part of the Tamil Eisteddfod and proudly received certificates.
N: What are some of the challenges you've faced as a South African Tamil woman both in your career and in your personal life?
D: In life there are always people who say you cannot do something but obstacles do not feature in my vocabulary or in my life. In my career I've moved from Lotus FM which is a community station to the Sunday Times, and for the past 15 years I've been at the longest-running investigative journalism organisation in South Africa, Carte Blanche. Rocks exist in life, as they always will, but you move past them and don't listen to the negativity of others who will pick on things and make you question yourself or your abilities.
N: You come across as quite culturally connected. What does maintaining the Tamil and the South African cultural identity mean to you?
D: I have a much wider view about culture and I believe that each person's difference is to be celebrated. The message I share with everyone is that you have to be yourself and your authentic self to show value to your own cultural identity. The moment you take on another personality, at some point you forget who you are portraying. With the medium of television being so critical I have to always be true to myself and portray authenticity.
My own cultural identity is South Indian but I don't force it upon my kids. They sound very different to me and sometimes think that I say things in a funny way. I am proud that they are able to build their own cultural identity and assimilate themselves into their world. South Africa is home to the largest population of Indians outside of India and this is something to be proud of too. We must be proud of our roots and of where we've come from.
N: How do you relax and reboot, especially with your busy lifestyle?
D: Cooking is my passion and what I do to just relax. I cook everything Indian from biryanis to fresh chicken curries. It's my escape from the busy lifestyle of the media world. Gym and yoga are great ways for me to relax and unwind.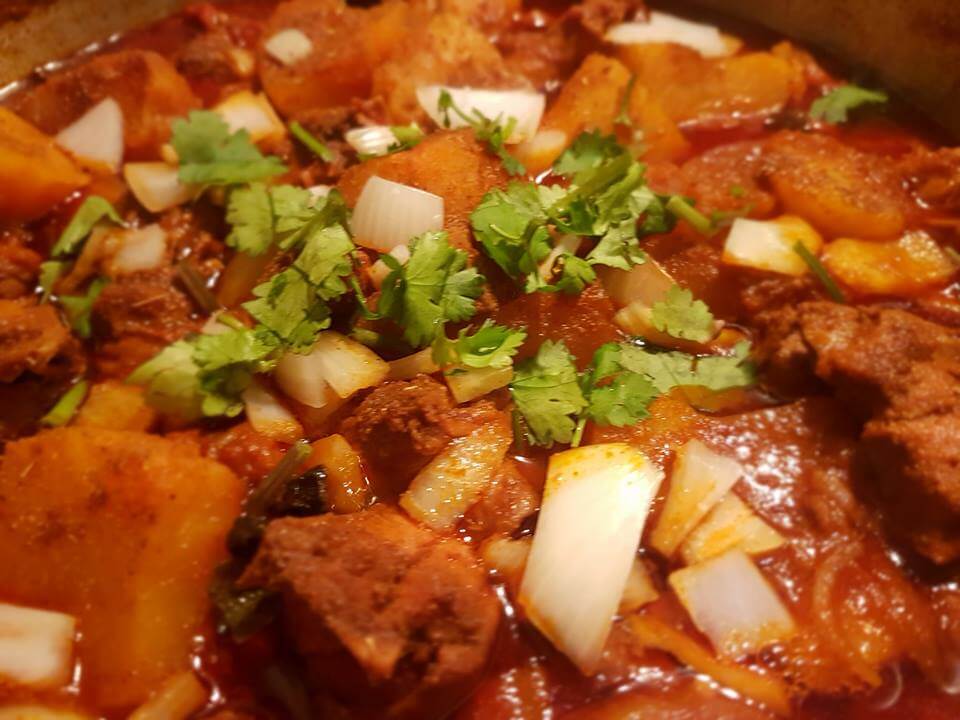 Fresh chicken curry – otherwise known as 'running-fowl' curry
N: What are you reading at the moment and what music do you listen to?
D: I will be interviewing Trevor Noah in New York this month. I am so excited about this so am doing a second read of his book, Born a Crime. I'm a 80s pop queen! And bhangra music is wonderful. More so, I absolutely LOVE the music of AR Rahman and Nusrat Fateh Ali Khan. As you can tell, my taste in music is quite diverse.
N: What is your career highlight?
D: I interviewed Mr Mandela when I was still with the community station, Lotus FM. This was wonderful. Sadly there were no podcasts back then but it still remains a highlight for me. Of course, in my daily career I meet every day people who are just so special in their own ways.
N: In reference to your current role in investigative journalism, what is your one line on corruption?
D: If we turn a blind eye and do nothing, it means that corruption will exist because we allowed it.